History of the Mair and Haden families
The Mair and Haden families of Nightingales owned
Nightingales
and its land from 1828 to 1923 and are remembered through the large memorial in the Churchyard of St Giles and a number of stained glass windows in the church. This history of the family is from a brief survey of local and Internet resources. There are still a number of open questions which could be resolved with further work in other county record offices.
Minor corrections Dec 2017.
John Mair who came to live at Nightingales in 1828, (here after called John Mair of Nightingales) was a very prosperous Scottish businessman, manufacturing and selling muslin. He is described as a merchant and he owned a business based in Glasgow and in the City of London. The business was started by his father, also a John Mair (here after referred to as John Mair the elder).
John Mair the elder started out life as a simple mason but after an accident, when he fell from a steeple, he totally changed his career and moved into the manufacture of muslin. This proved to be very successful and he made a lot of money in Glasgow and in London where he had established a warehousing activity at 58 and 60 Friday Street in the City. In 1793 he brought an existing country house near Glasgow called Plantation which he greatly extended and embellished. (Glasgow Digital Library) His son, John Mair of Nightingales, joined the firm as his partner. John Mair the elder died a widower in 1824 owning a lot of property in and around Glasgow, property in London and the muslin manufacturing business. In his Will he says it is all to be sold and split amongst his 4 sons and 3 daughters "divided according to proportions I will leave written in a notebook". The outcome was that his eldest son, John Mair of Nightingales, ended up owning the business but now operating from the house and warehouse they owned at 60 Friday Street, London rather than from Glasgow.
Friday Street used to run from Cannon Street near St Pauls down to the river. It was virtually obliterated by the building first of Queen Victoria Street and then Upper Thames Street.
John Mair of Nightingales had a number of children by a Sarah Martin. Two daughters were first, Sarah born on the 15th of September 1815 and Margaret born on the 21st of May, 1817. They were both baptised on the same day, 18th of September 1818 at St Andrews, Holborn, where the baptismal registers record the dates of birth, that they were both illegitimate, and that they were the daughters of John Mair of Friday Street and Sarah Martin. The baptisms of the next three children, all sons, John, Hugh, and David Knox, should show whether John Mair, and Sarah Martin were ever married. Unfortunately, the registers of St Andrew's Holborn, are not indexed and it was a very large and populous parish. There are about five baptisms per day recorded so the baptisms of these three boys have not been found. A fourth son William Bissland Mair was baptised at Chalfont St Giles on the 17th of September 1832, the son of John Mair and Sarah Mair. I have not found a record of the marriage.
The eldest son, yet another John Mair (hereinafter called John Mair the younger), went into partnership with his father.
John Mair of Nightingales purchased Nightingales in about 1828, presumably funded from the inheritance from his father, John Mair the elder. He erected a new large house near the old farmhouse and turned the farmland into a park. He lived there for some 20 years.
Meanwhile his son, John Mair the younger, lived in 60 Friday Street where he became involved in local affairs. He was a church warden of St Matthew, Friday Street. Also he was a significant contributor to the Linen Drapers, Silk Mercers, Lace Men, Haberdashers and Hosiers Institution. He also became a director of the National Mercantile Fire Insurance Society.
John Mair of Nightingales died on Tuesday the first of August 1848 at Nightingales and is buried in Chalfont St Giles churchyard. His Will is a very long and complex document, with many provisos and alternatives, but the essence seems to be that he wanted to sell his business and all his estate and spread the proceeds across all of his children. Yet at the same time he wants either of his two elder sons, John and Hugh to take on his business but does not want to leave it to them; they have to buy it. Similarly he leaves all of the contents of his houses to his daughters but says his wife can have what she wants. It looks like a recipe for endless dispute yet none has appeared so far. The family must have come to some arrangement with John Mair's widow Sarah. The two daughters, and probably the two younger sons, continued to live at Nightingales whilst John Mair the younger initially continued to live at 60 Friday Street.
Unfortunately I have not yet found any formal records of John Mair Son and Company. However, according to the City of London trade directories, the business remained in being at Friday Street until 1877, after which time it is no longer listed.
Two years after John Mair of Nightingales' death his elder daughter Sarah married John Clarke Haden when she was 35 and he was 45 and a widower. Interestingly the marriage, which took place on 14 August 1850 in Chalfont St Giles Church, was performed by the Rev A. K. Dickinson Rector of St Matthew, Friday Street. Before the time of this marriage John Clarke Haden had become a Priest in Ordinary to the Queen and a Minor Canon and Precentor of Westminster Abbey, posts which he retained until his death in November 1869. His obituary in The Times of 4 Nov 1869 reads as follows
"The death is announced of the Rev John Clarke Haden, M. A. who has for many years past has been known as an active London clergyman. He was educated at Corpus Christi College, Cambridge, where he took his BA degree in 1827, and, having held some Minor offices in the church, was appointed in 1834 to the post of a Priest in Ordinary to King William IV, and continued in the same office during the reign of her present Majesty. In the same year he was appointed to a Minor Canonry in St Paul's Cathedral, and while discharging his duties in that capacity was, during one of the weekday services, fired at by a person in the body of the church, but escaped unhurt. This Minor Canonry he resigned a few years since. In 1839 he was nominated by the Dean and Chapter of St Paul's to the Rectory of Hutton near Brentwood, and in 1846, was appointed to a Minor Canonry with the Precentorship in Westminster Abbey, both of which, with his appointment at Court, he held until the time of his death."
His father was Thomas Haden, surgeon of Derby, and he attended Derby and St Paul's schools. (Alumini Cantabrigienses Pt II J A Venn)
John Mair's widow, Sarah Mair, died in 1866. Margaret Mair the second daughter, died in 1867 and when John Clarke Haden died in 1869 he left his widow, Sarah Haden, in possession of Nightingales for the next 29 years. Her son John Harry Haden, who at this time was the vicar of St John's Limehouse, then inherited it in 1898. He died in November 1915 at Nightingales Cottage, which was on the land now the site of The Hawthorns, Little Chalfont.
John Harry Haden was born 1853 at "Lusciniae", Chalfont St Giles. He went to Radley School and then Pembroke College Cambridge where he obtained his BA in 1876 and MA in 1880. He was ordained a Deacon at Bath and Wells 1877, a priest in 1880. He was appointed Curate of South Petherton, Somerset 1877-82, Curate of Limehouse, London 1882-93, and Vicar of St John's, Limehouse 1893-1905
John Mair the younger died in September 1861 at the young age of 37 or 40 (the memorials at the church give both ages). He left no known children. At that time he was living with his brother Hugh at Phyllis Court in Henley on Thames. Phyllis Court is a large and historic house on the banks of the Thames near to Henley Bridge and which had been leased in early 1861 by Hugh Mair from the owner Edward MacKenzie who also owned Fawley Court. Hugh also owned land including the a dispersed estate at Dartmouth in Devon which he bought in 1864. Hugh Mair lived at Phyllis Court until he died in 1901/2. He is described as formerly of Rowarden Lodge, Loch Lomond, North Britain.
( Indentures of purchase and sale of the Dartmouth property are in the Dartmouth Archives.)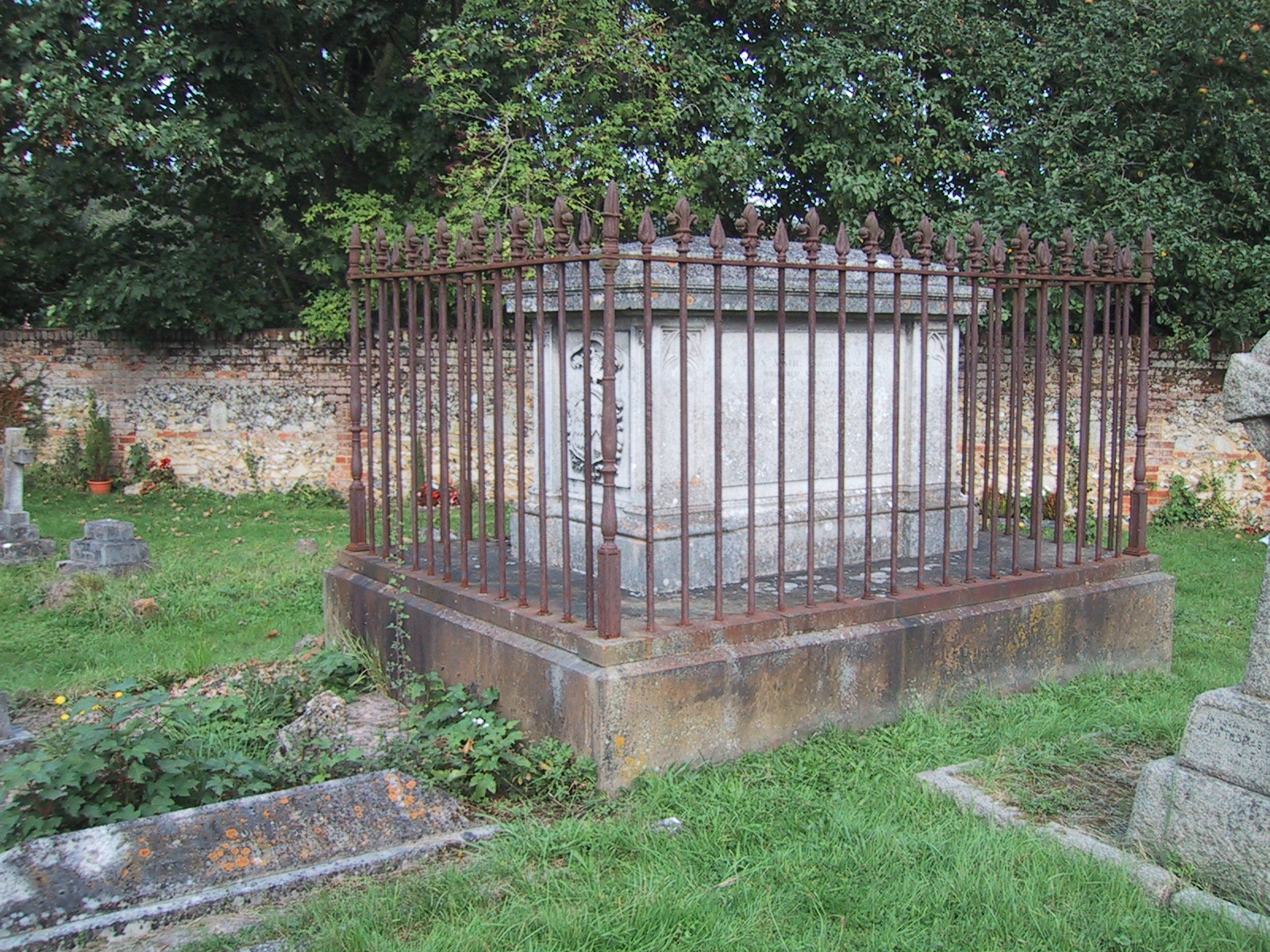 In Chalfont St Giles churchyard there is a large railed chest tomb, presumably over a family vault, with monumental inscriptions for John Mair of Nightingales, his son John and their wives, his daughter Margaret, his third son David, and his daughter Sarah's husband John Clarke Haden.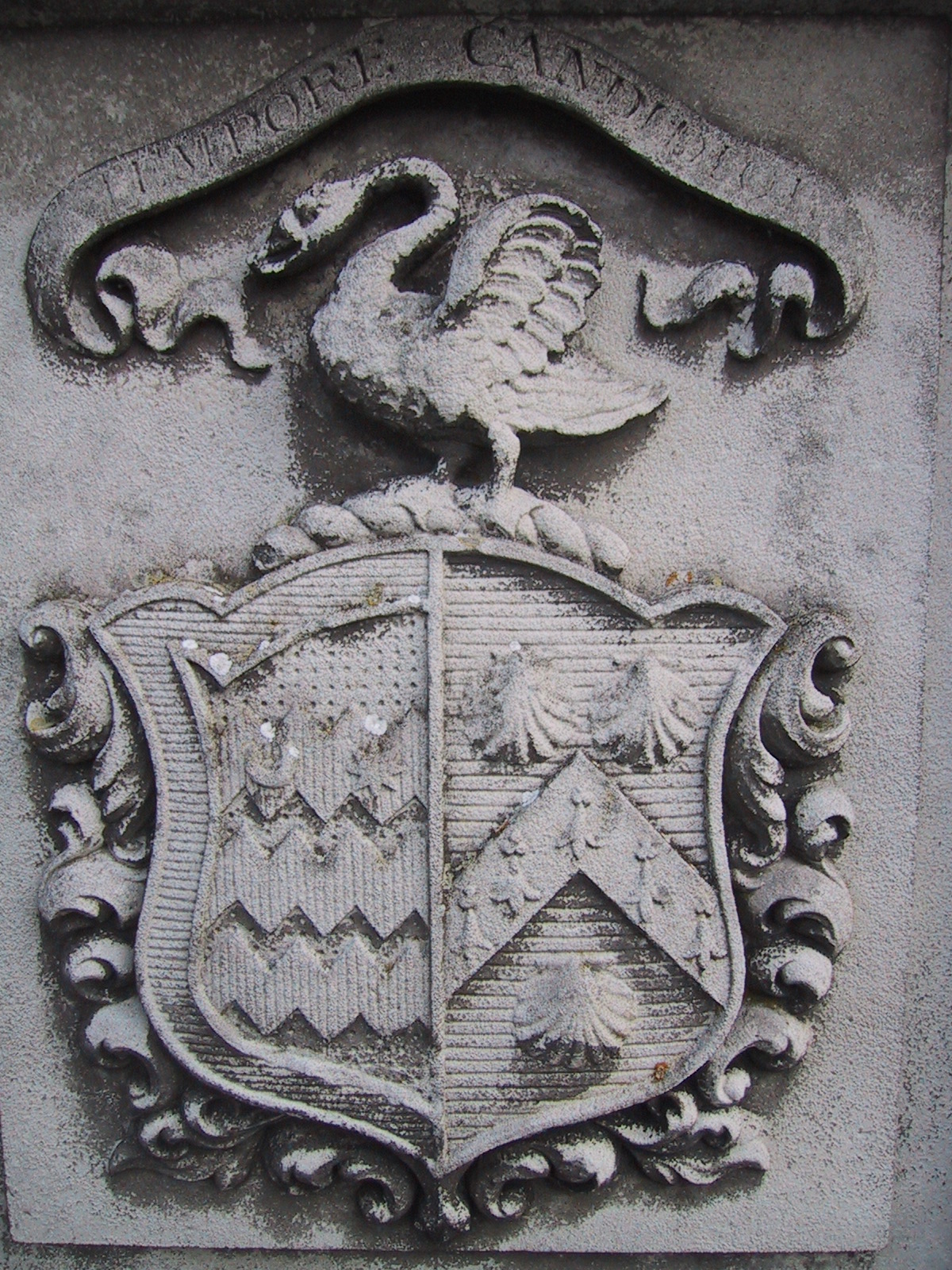 On the west end of the tomb is a coat of arms.
Other family memorials are nearby.
Within the church, three of the stained glass windows in the north aisle are in memory of John Mair of Nightingales, Sarah Haden and John Harry Haden. There is another window in the Organ Chamber in memory of John Mair the younger and Margaret Mair donated yet another. The details of all of these windows can be seen at www.buckschurches.uk/glass/building.php?buildingid=42
REFERENCES. Unless otherwise specified, all references given above refer to catalogue references at the Centre for Buckinghamshire Studies at Aylesbury. (County Record Office)
This print is a section of the Chalfont History website.
Please come back soon.
John Dodd ©2012 www.chalfonthistory.co.uk