Parish boundaries of Chalfont St Giles and Chalfont St Peter
The parish boundary of Chalfont St Giles which exists today is not the same as the boundary which existed for hundreds of years. In 1934 came the first change since time immemorial, followed by a series of other changes over subsequent years until we reach the situation today where about one-third of the boundary has been changed and in some places more than once.
Revised 2013.
The changes in 1934 were the most dramatic until the formation in 2007 of Little Chalfont as a separate civil parish. There used to be a 30 acre detached piece of Chalfont St Giles Parish south of Jordans containing Wheatsheaf Farm and which was surrounded by Chalfont St Peter Parish. In 1934 this was absorbed into Chalfont St Peter. There also used to be a 48 acre detached piece of Chalfont St Peter Parish between Chalfont St Giles and Amersham, running from Harewood Downs to Hill Farm. This was absorbed into Chalfont St Giles. There was a finger of Chalfont St Peter Parish which came up to The Stone and which lay between the London Road and the Misbourne. This was cut off and absorbed into Chalfont St Giles. The northern part of Chalfont St Giles Parish containing the centre of Little Chalfont was removed from Chalfont St Giles and absorbed into Amersham. Finally the southern boundary was moved north to run along the line of Welders Lane rather than along the footpath further south.
During the second half of the 20th century there were a series of evolving smaller changes to take account of housing development as Chalfont St Giles and Chalfont St Peter expanded. For example the boundary near Kings Road was moved east to accommodate the houses being built in that area and the boundary close to Chalfont St Peter village centre was moved north to allow the houses near to Chalfont St Peter village to be included within that Parish.
Finally there was the excision of much of the northwest of the parish in 2007 to form, with parts of Amersham and Chenies, a totally new civil parish of Little Chalfont.
But from a historical perspective we should put these 20th and 21st century changes to one side and concentrate on the boundary as it it had existed since the parishes were first established.
We have to look at both Chalfont St Giles and Chalfont St Peter to draw conclusions. Some theories about the evolution of the boundaries are discussed on a separate page.
In this map and those that can be linked the boundaries have been superimposed on an 1880 map.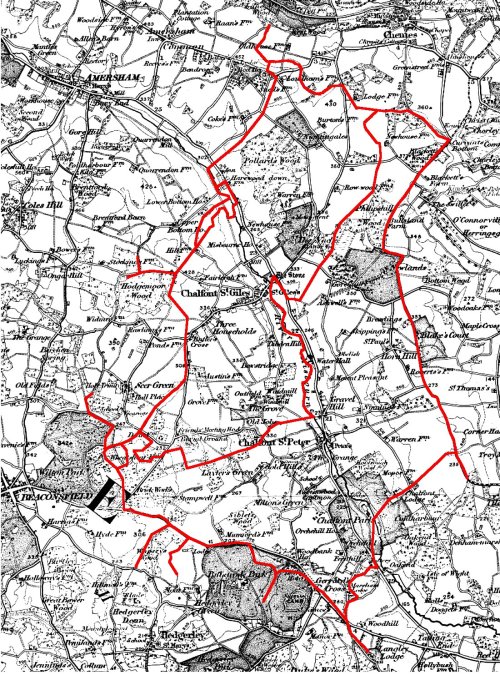 On a separate page you can see a large image of the historical boundaries. Select your browser back button to return to this page.
You can also see a map of Chalfont St Giles with the modern (pre 2007) boundary superimposed on the historical boundary.
REFERENCES. Unless otherwise specified, all references given above refer to catalogue references at the Centre for Buckinghamshire Studies at Aylesbury. (County Record Office.)
This print is a section of the Chalfont History website.
Please come back soon.
John Dodd ©2012 www.chalfonthistory.co.uk