The origins of Dibden Hill
The Dibden Hill settlement was created in 1847/8 by a radical activist and eccentric named Pierre Henri Joseph Baume as means to give poor people from industrial areas a home and land of their own. It was on a similar model, but not identical, to Heronsgate in Chorleywood. It was not a successful venture and the original houses became housing for local people. Baume died in 1875 in the Isle of Man. Contrary to local legend it was not a Huguenot settlement.
The name
Dibden is made up of two Old English words dib, meaning deep and den (from dean) meaning a straight valley up the side of a hill. (See Gelling and Cole 2000 "The Landscape of Place-Names".) The name was probably in use for the sudden dip in Bowstridge Lane long before the houses were built.
The land
Until 1846 the land now occupied by Dibden Hill had always been a single field of arable land belonging to Bowstridge Farm. This farm had been in the ownership of the Grimsdale family since at least 1634. (Chalfont St Giles parish registers.) John Grimsdale, who died 20 January 1846, left all his estate to be sold by his executors and the proceeds divided amongst his seven children. (PCC Wills Prob 11/2029.) The executors eventually put up the estate for public sale in October 1850 but had made a private sale of about 40 acres in 1846 to P H J Baume, a naturalized Frenchman.
What happened next is well described by an article written in 1875 in "Chalfont Echoes" No XIX by W Goodman just after the death of Baume in the Isle of Man where he had moved in about 1860. William Goodman had purchased Bowstridge Farm in 1850 and so was well placed to know what happened to the property bought by Baume.
He bought about 40 acres of arable land, consisting of five fields and four pieces of land in "Out Field", all in the parish of Chalfont St Giles. One of the fields named "Horse Croft" he changed to "Dibdin Hill", and built himself an odd sort of residence, on 3a.3r.0p of the field, which he occupied himself for some years together with a supposed son whom he had brought up.
In another part of the field he built a neat house, which he let with some land, to R. F. Mathews on a lease of 999 years. He also let to Thomas Kay a cottage one storey high and some land, for the same term.
He also built two cottages two stories high, and eight one storey high which, with small pieces of land, he let to weekly tenants.
Many years back he sold ten acres to a Robert Robson of the county of Durham. There are about ten acres unlet, which have been uncultivated for many years, such an exorbitant rent having been asked for them that no one would be able to pay it. There are about 20 acres let fall which the present occupier has not paid the rent for a long time past.
The property at Chalfont, (which has fallen into a very bad state), together with a property at Colney Hatch, near the Alexandra Palace, and also his real and personal property in the Isle of Man, is left to the various charities of that island, where he has resided for the last 18 years. His son, aged 45 years, is living at Liverpool. He is said to hold some important documents which show the relationship that existed between them, but this son is not even mentioned in the Will, though he was brought up by Mr Baume, and lived with him at Chalfont for some years.
(The above is from a transcript in the D Law papers at CBS D/X 1183/2)
The following map shows the location of Dibden Hill (blue/yellow line) and the land purchased by P H J Baume (Green outline) in relation to Chalfont St Giles and Bowstridge Farmhouse. It is the field layout as on the 1840 tithe map but transposed onto the 1897 6 inch OS layout.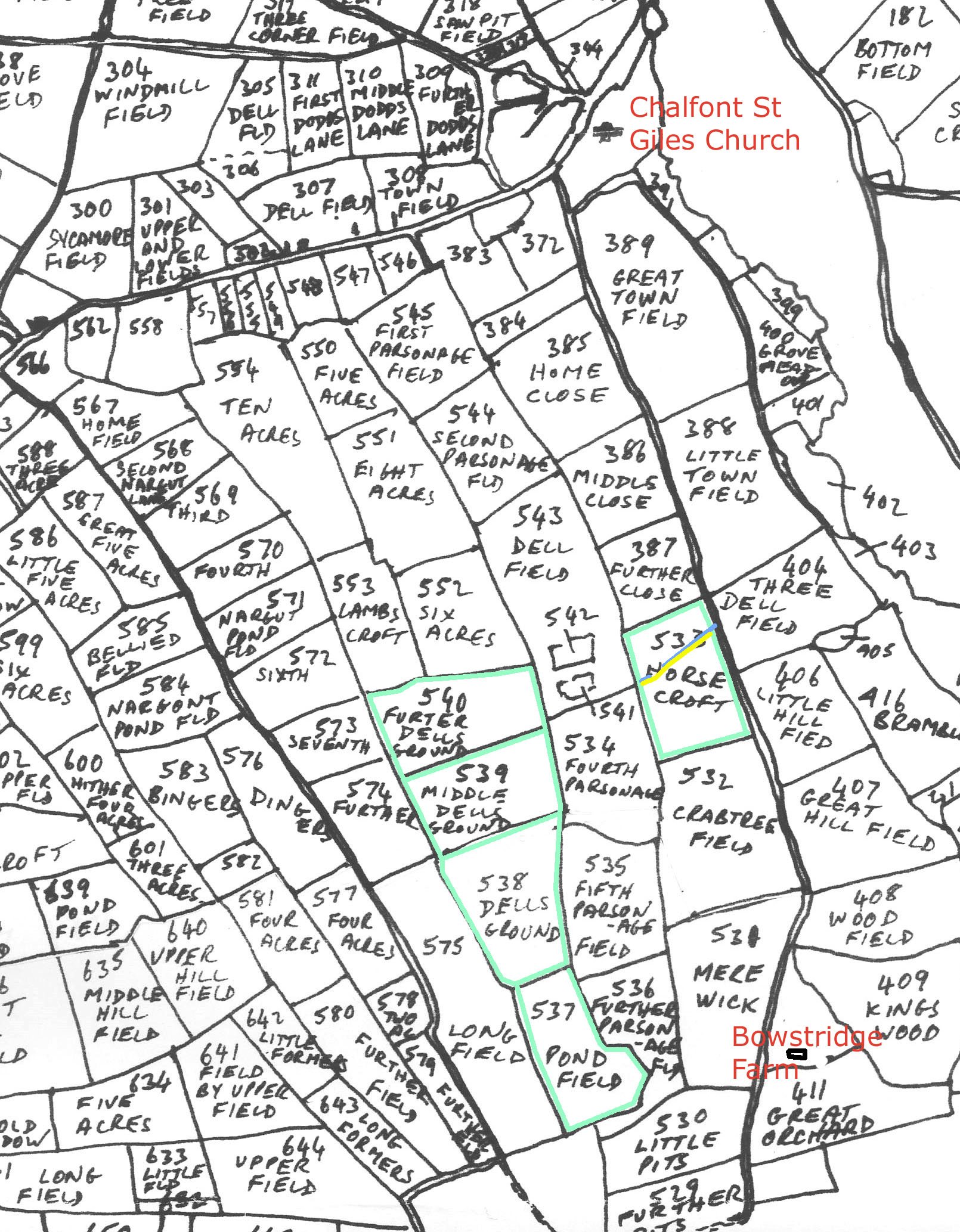 From the parish rate book in April 1848 there are already 8 houses built, (PR 35/11/5Q) and by the time of the 1851 census 9 households are listed. The following plan shows the layout that existed up to at least 1924. Since that time additional houses have been built on both sides of the road.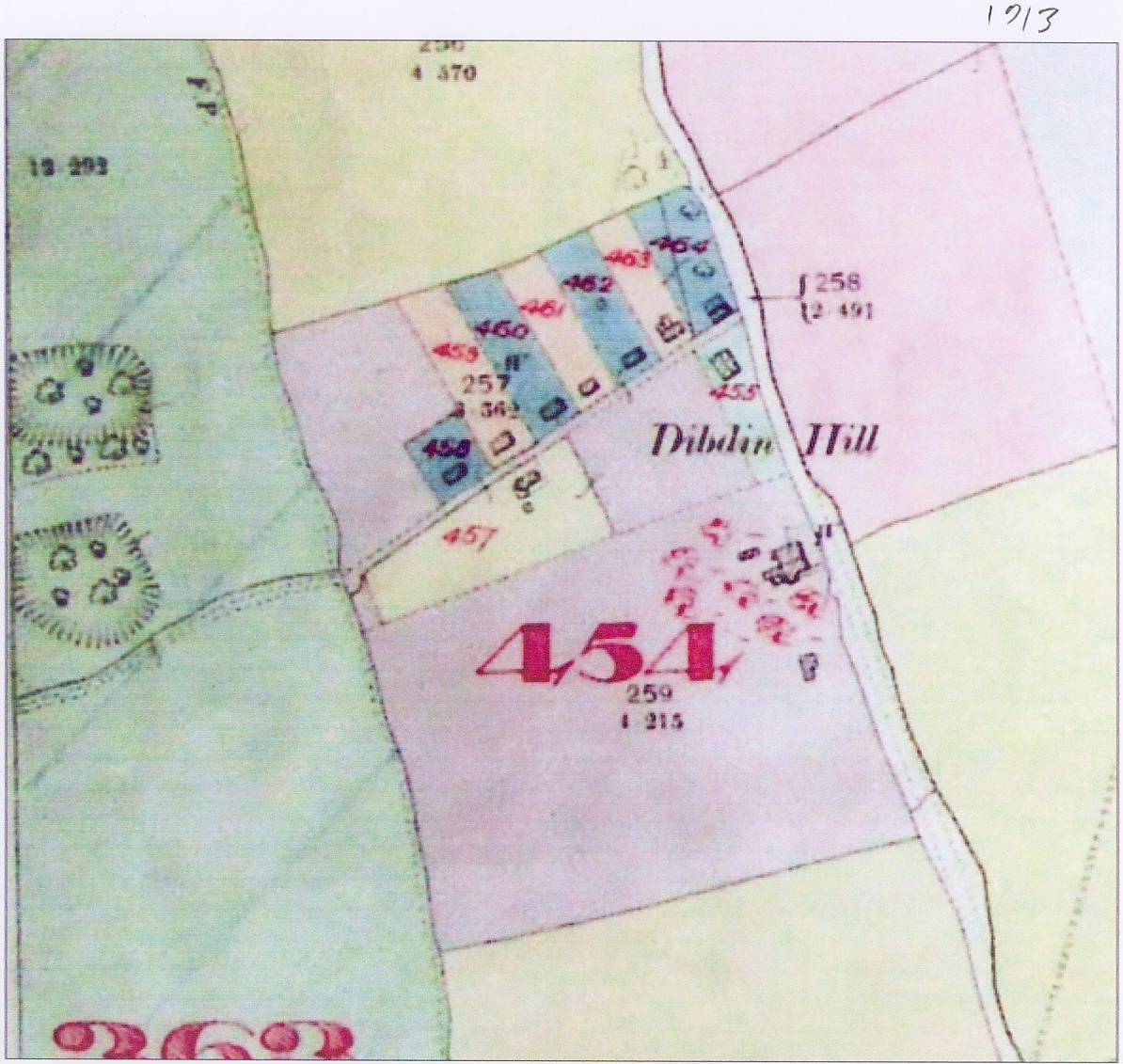 Comparison to Chartist settlements.
Although Baume's concept was the same as the Chartists National Land Company settlements, such as Heronsgate and Charterville at Minster Lovell, it was on a much smaller and poorer scale. Both the number of houses and amount of land for each plot was small. The Chartists and the National Land Company plan were on a grandiose scale. Plots were from 1 to 4 acres each and the houses were of a sound construction and typically built on estates of over 100 acres. Due to Baume's paranoia and miserly streak, both at Dibden Hill and at his earlier estate at Colney Hatch in north London, the houses and plot size were very small and was little chance of anyone actually surviving on them without other employment. The National Land Company settlements ran into a number of problems both conceptually and practically. Dibden Hill suffered from similar problems but whereas the National Land Company was wound up in 1851 and the estates sold off, Dibden Hill remained in the hands of Baume but never expanded beyond its initial nucleus.
The occupants
Baume occupied the isolated house just above the numeral 454. It was occupied until at least the 1950s but in 1977 was demolished and replaced by a new-built bungalow "Dibden House".
Who were the inhabitants of these houses and what does that tell us about why they were built in the first place? Luckily we have the ten yearly census returns from 1851 onwards which record the occupants within Dibden Hill although not necessarily the specific house; unoccupied houses may have no return. The returns for 1851, about 3 years after the houses were built, 1861, and 1871, just before Baume died have been examined and a summary of the data can be seen here.
In 1851, which is just a few years after the houses were built, they were occupied by people who had been brought in by Baume from outside the local area. They were all born in London or in Northamptonshire. Only one is a silk weaver, contrary to popular myth which is that all the inhabitants were silk weavers. Baume and his son were said to be living here at this time but he does not show on the census.
Ten years later in 1861 only 5 houses are occupied and of those 3 are now occupied by local people. Baume still owned them all but was not around to let them. He was mainly living in Manchester at this time.
By 1871 11 houses are occupied, 7 by local people. Baume by this time had been living in the Isle of Man for a number of years so who was letting them and taking the rent? He still owned them and the one person who was there and where there is continuity is Richard P Matthews. Although he died in 1879 he was superseded by his son, also Richard Matthews and also a tailor in the 1881 and later censuses.
Now we come to the significant fact that on the Amersham R D C rateable valuation of 1904 all the Dibden Hill property is listed as owned by Edwin Matthews who remains the owner at the 1913 Inland Revenue valuation. This Edwin Matthews was a son of Richard P Matthews, born 1834 and died in 1916. Edwin is shown occupying Dibden House from 1891 onwards until his death. Kelly's directories now provide a useful source and show J H Perry living there in 1920, but from 1934 until at least 1952 Dibden House was occupied by an Arthur Kemp. As mentioned earlier the original Dibden House was demolished in 1977. (Source CDC Planning records CH/888/77.)
This leaves open the difficult question of ownership of the land and property. At Baume's death his Will caused much controversy for many years. It is said that the Chalfont properties were given to his reputed son but this has not been confirmed, nor how they came into the possession of Edwin Matthews. The Land Registry records at 2008 that all deeds and documents of title to Dibden House have been lost. The situation on other parts of the property have not been checked.
If anyone reading this and who occupies any of the land and has deeds which can shed further light on the subject please make contact. Further research will have to carried out in the Isle of Man where all of Baume's voluminous papers are held.
Peter Henry Joseph Baume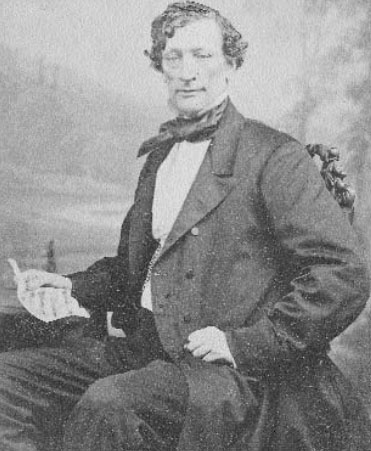 Born in Marseilles in 1797 to French parents, Baume moved with them at an early age to Naples where he attended a military college. At the age of 19 he came to London where, through the contacts he had already made, he secured the position of secretary to the Neapolitan Ambassador to France. Some four years later he briefly became secretary to the heir of the Neapolitan throne before he was dismissed because of his radical background. By this time he was very wealthy, probably through trading on insider knowledge and selling secret information.
He moved back to Paris where he continued with his illicit activities but was under police surveillance. His personal life was as abnormal as his business dealings. Already he was clearly an eccentric individual and he became increasingly paranoid, a condition that remained for the rest of his life. He now at 27 became very religious and a recluse but in 1827 made a pilgrimage to Rome. This may not have had the effect expected as shortly thereafter he came to London where he became increasingly radical. This was a time of great unrest and poverty in both town and country and Baume wanted to play a part in addressing this. On one hand his wealth and many abilities should have enabled him to play a leading role but on the the other his paranoia and difficulty in working with others meant all his projects were his alone. His personal life was also strange. His sister came from France to live with him in London and then died in childbirth leading to accusations against him of incest and murder.
In 1832 he bought 84 acres in Friern Barnet which he let out in lots for people to have a house and a little land, not communal living but sort of socialist in concept. This was a precursor to the 1846 acquisition of Dibden Hill estate which was on the same approach. Also in 1832 he took British citizenship.
He was continually trying to rise in the social hierarchy but at the same time was running into trouble. He spent a year in the Fleet Prison after being sued by one of his tenants.
He never seemed to spend much time in one place and gradually spent more time in Manchester, and then increasingly in the Isle of Man where he bought yet more property. The attraction of the Isle of Man to him was its legal system which he thought would give better protection against people trying to defraud him or his estate.
As he grew older he became more and more eccentric. He lived in a hovel and had strange eating habits, for example a mixture of raw cabbage and snails.
When he died in 1875 he left an estate valued at over £50,000 but his trustees had great difficulties as well as animosities in sorting it out. The distribution of his estate was not finalised until 1904 and the Baume Trust, to which much of the money went, lasted until the 1980s.
P H J Baume is buried in St Georges Churchyard, Douglas, IOM.
Sources.
"Oxford Dictionary of National Biography" OUP 2002. Article titled Baume, Pierre Henri Joseph.
"New Manx Worthies" Kellin, D. ed. Manx Heritage Foundation 2006. Pages 3-5 "Baume" by Roger Cooter.
Baume Papers, Manx National Heritage Library, ref:MS09950.
Hadfield, Alice Mary (2000) [1970]. The Chartist Land Company (2nd ed.). Aylesbury: Square Edge Books. ISBN 0-7153-5809-X.
----------------------------------------- Sept. 2015
REFERENCES. Unless otherwise specified, all references given above refer to catalogue references at the Centre for Buckinghamshire Studies at Aylesbury. (County Record Office)
This print is a section of the Chalfont History website.
Please come back soon.
John Dodd ©2015 www.chalfonthistory.co.uk