Who was the Dodd in Dodds Lane?
The short answer is probably Walter Dod who appears in a medieval deed of 1318 as owning the land at the top of Dodds Lane where Stratton Chase stood. Until the late 1800s the fields to the north of Hill Farm Lane and west of Mill Lane had Dodd in their name e.g. Great Dodds Croft. There was a cottage a few hundred yards up Hill Farm Lane on the right hand side known as Dodds Messuage. This was all swept away when Stratton Chase was built.
Content revised 28 January 2007
Dodds Lane is so called because it was the lane leading to Dodds . This was a small landholding just to the north west of Mill Lane and north east of Hill Farm Lane. It is now built over by the houses erected in Stratton Chase Drive.
The earliest record is a deed of 1318 (Wilts.R.O. Cat. 1332 Box 41 No 5. Also HMC 15th Report Appx VII p127) which refers to the land of Walter Dod at this location. It is therefore very probable that the landholding took its name from this family. Included within this landholding was the house, probably a small tenement called "Doddys Messuage". This land can be seen in a deed of 1509 (Wilts. Record Office 1332 Box 41 No 41. Also HMC 15th Report Appx VII p132.) where it is clearly defined and is identical to the Dodds Messuage and its fields recorded in the tithe records in 1840. (See illustrations.)
It had came into the possession of William Russell, who owned Hill Farm in 1509 by grant from Richard Restwold who was Lord of the Vache. It should be noted that this Russell family is unrelated to the Russells who are the Dukes of Bedford.
William Russell assigned it to his mother and sister as a source of income but upon their deaths it reverted to William who absorbed it into the lands of Hill Farm where it remained throughout all the following change of ownership until Stratton Chase estate was created.
The Russell family had a legal battle with a Thomas Redinge and a Thomas Butterfield who claimed ownership, but Russell won.
There was a house of some sort on the site of Dodds Messuage until at least 1851 as two families of labourers are recorded as living there on the census taken that year. It was shortly thereafter demolished to make way for the gardens and outbuildings of Stratton Chase.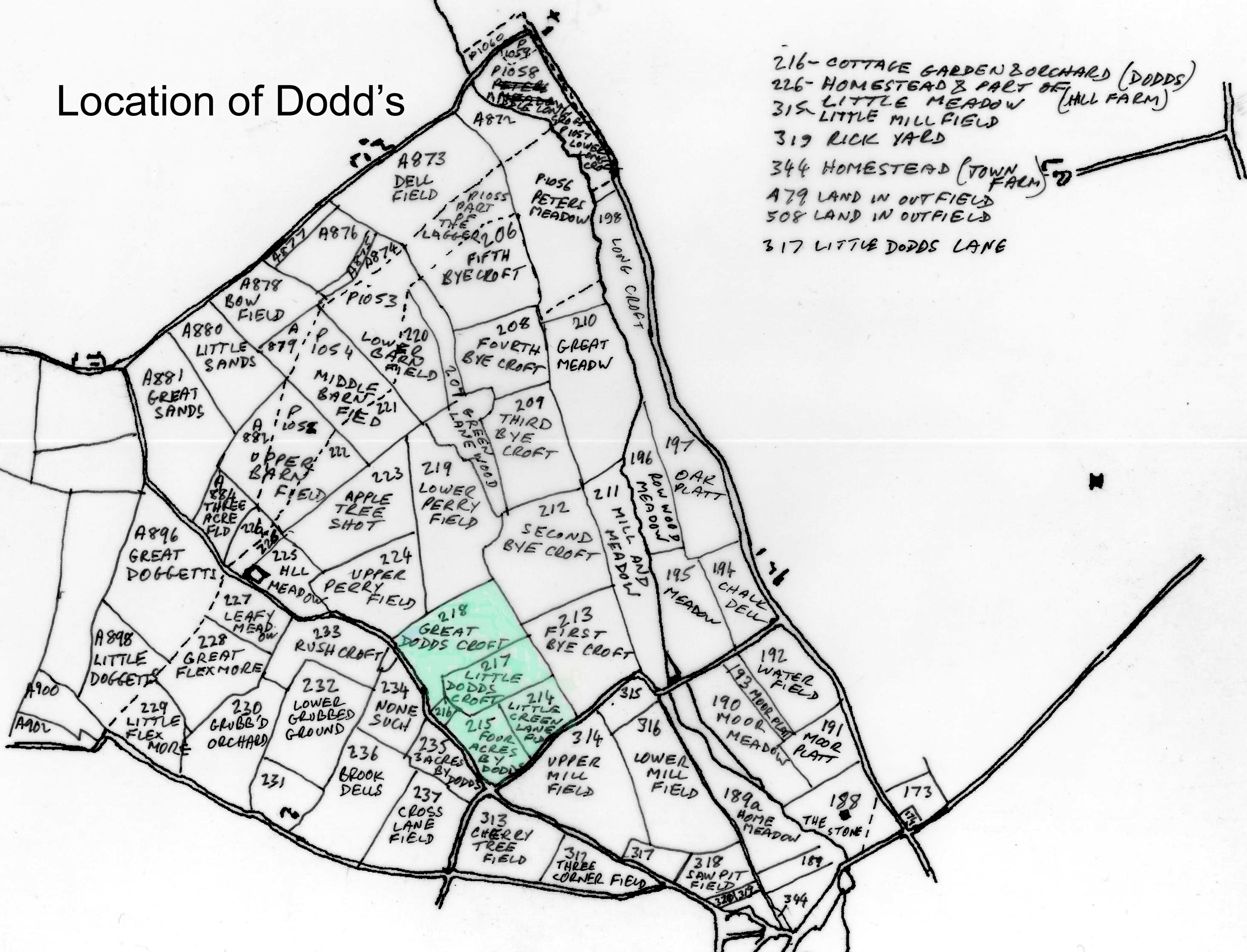 Back to Stratton Chase history
REFERENCES. Unless otherwise specified, all references given above refer to catalogue references at the Centre for Buckinghamshire Studies at Aylesbury. (County Record Office)
This print is a section of the Chalfont History website.
Please come back soon.
John Dodd ©2012 www.chalfonthistory.co.uk