Doggets/Dogets
Doggets is an ancient name and has survived as the name of enclosures on both sides of the Misbourne valley. This page discusses their history.
Content last updated Jan 2013.
Only three occurrences of this name are found in the local area. There was a farm in Denham, called Doggets Farm. This was obliterated by the railway from High Wycombe to London, which opened in 1906 and runs over the site of the farmstead. It was located about one third of a kilometer west of Denham Golf Course Station.
The second occurrence is located adjacent to Hill Farm, Chalfont St Giles where Great and Little Doggets were the names of enclosed fields, which later became Kirby's brickworks.
The third occurrence is on the opposite side of the Misbourne valley, where Great Doggets, Middle Doggets, Little Doggets, Doggets, and Doggets Ley are the names of enclosures running off Nightingales Lane into Pollards Wood. In 1840 they were all still arable and grass. Only later did they become woodland. (Doggets Wood Lane, a 20th century development, now runs through Doggets and Doggets Ley.)
We can safely assume the derivation of the name Doggets is from a person named Dogget or Doget. A rare name in Bucks, but relatively common in eastern counties, particularly Cambridgeshire.(Distribution established from 1881 census.) There is no obvious linkage between the three locations given above, other than the use of the name. There are references to someone called Doget in 1295 and 1303 when a Walter Doget was a witness to Deeds for land transactions in Chalfont St Giles. (Duke of Somerset deeds Wilts R O /Cat 1332/41/2 & /4.) Being a witness at that time implies he was a landholder in the parish. A Walter Doget of Denham also occurs in 1290 when he was sued for a debt ("History of Iver "Ward,W H & Block,K S 1933, page 56). We cannot of course, be sure that these are the same person, but it appears possible.
The other early reference to Doggets is from the Manor Rolls of Chalfont St Peter, where in a survey of 1333, Beatrix Eldred is listed as holding "Doggetshull " which had belonged to Simon Eldred. This landholding is the basis of Hill Farm and has been traced from that time to the present day.
The four Doggets enclosures on the north east side of the valley have no very early record but they appear as part of the Vache Estate as soon as its lands are listed and mapped.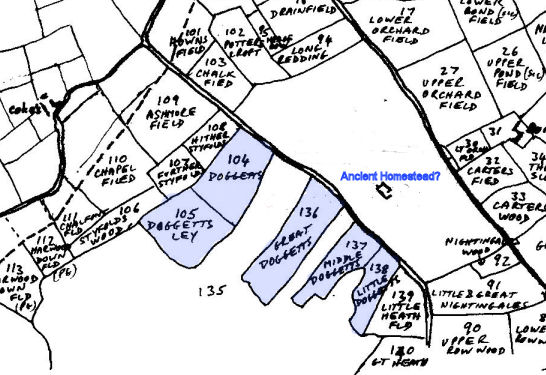 From their nonlinear boundaries and odd shapes these enclosures give the appearance of being ancient assarts into the woodland of what is now called Pollards Wood. Additionally, one is called Doggets Ley where the use of Ley must date it back to an early period and indicates it was a clearing. ("The Landscape of Place Names" Gelling, M & Cole, A 2000).
Such clearings in woodland on high ground will often be associated with ancient farms in the lower levels where the landholders came to clear woodland in the summer to provide pasture for their animals. We could therefore conjecture that the family at Doggets Farm in Denham had upland pasture in Chalfont St Giles. They would need somewhere to live during the summer, and looking at the layout of farms and fields in the immediate vicinity it is possible, but no means certain, that what became Nightingales Farm is such a site. It is of course possible that the assarts were made by a family based at "Doggetshull" but I think this less likely because of the topography. The two locations are separated by the river valley.
Today these plots of ground have been subsumed within the 20th century housing developments of Pollards Wood and Doggets Wood Lane. It is however possible to still discern on modern maps the ghostly outlines of these ancient plots.
REFERENCES. Unless otherwise specified, all references given above refer to catalogue references at the Centre for Buckinghamshire Studies at Aylesbury. (County Record Office.)
This print is a section of the Chalfont History website.
Please come back soon.
John Dodd ©2012 www.chalfonthistory.co.uk