The Nash family.
This is the branch of the extensive Nash family which came to live in Chalfont St Giles and occupied Stonewells.
( Only Christian names are given except where needed to avoid confusion.)
The surname Nash is quite common in this area, especially in Wycombe and Great Missenden although there seem to be a number of quite distinct branches of Nash families who may have a common ancestry but this was so along ago it cannot been traced.
In the context of Stonewells and Chalfont St Giles there was an Arthur Nashe who tenanted Grove Manor House and lands in the 1620s (DRA-150), and there was a William Nash harness maker living in Chalfont St Giles village from before 1841. There are no apparent links of these people to the Nash family who came to Stonewells.
Turning to their story, they originated from Oving a few miles north of Aylesbury where William Nash was born in 1805 but move to Bierton a little way south east where he appears in the 1841 census as a butcher with his wife Sarah and their three sons John, William, and Thomas.
John remained in Bierton as a butcher and farmer and may have taken over his father's business when his father, William, came to Chalfont St Giles to acquire Stonewells and its 55 acres which he did in 1850.
However rather than farming Stonewells himself he had his second son William do it whilst he went on to take over the Grange Farm of 186 acres in Hughenden. In about 1862, (at probably the end of a standard twenty-one year tenancy) he moved back to Stonewells and at the same time his son William moved to a 280 acre farm in Fingest where he remained for the rest of his life, dying in 1902.
Shortly after returning to Stonewells William the father died in May 1864 leaving his widow Sarah to run the farm. Four months before William died his third son Thomas, who was a baker and grocer in Bierton had also died a widower leaving six children. Of these the eldest and youngest sons, William Elliott who was only 10 and Frank who was 2 when their father died, came to live with their grandmother at Stonewells.
Sarah died in 1873 and Stonewells was left to her two remaining sons of whom John subsequently died in 1874 and so William, as sole remaining heir but living in Fingest, decided to sell the farmhouse and most of the land which was done in 1875. The new owners rented the farm and some of the land back to William Elliott Nash who was of course the sitting occupant.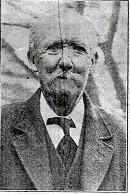 William Elliott had married Mary Stacey in Feb 1875 and had five children over the following years, remaining at Stonewells as farmer and butcher. He was a public spirited person and became the local Highway Surveyor in 1877, joined the Parish Council when it was formed in 1894 and became its chairman for a number of periods. He was a County Councillor, JP and lay preacher for the primitive Methodists.
In 1929 the owners of Stonewells decided to sell it and so William Elliott bought it, bringing it back into the family. However this may have been a speculative move as he sold it again in 1932.
Meanwhile he and his son William James Elliott started a nursery garden business on ground up the Deanway at the side of the Lagger.
William Elliott died in 1938. Of his five children William James Elliott has already been mentioned and who died at Chalfont St Giles in 1969.
Mary b1876 and Minni b1879 have not been traced. Lizzi b1883 was briefly a greengrocer in Chalfont St Giles and then married Horace A Snell. Harry b1889 was a dairy farmer and married to Elizabeth Ellis. They probably lived near Rickmansworth for a while but came back to Chalfont St Giles. He died in 1964.
Returning to a previous generation, William Elliott had a much younger brother Frank as previously mentioned
Frank was with his grandmother at Stonewells in 1871 but cannot be located in 1881. By 1891 however he is firmly established in Chalfont St Giles as a Grocer, Draper and Clothier living in a shop next to the Alms Houses (in 2015 occupied by A C Frost). This is possibly a new shop as next door is the shop of Joseph Hearne butcher who was also there in 1881. By 1901 Frank had moved out of the shop and was living in a house "Hillside" just up Deanway on ground that it appears he and his brother William E had purchased c.1895.
Frank must have been very entrepreneurial. He expanded the shop to take over the premises that Joseph Hearne had occupied. He also acquired and presumably developed land. By 1915 he owned about 30 cottages in the village as well as some land. From the evidence of the Kelly's directories he sold the shop some time around 1920 to John Hearne who ran it under the name of Nash's Stores. A tradition followed by F W Essex who owned the stores in 1952.
Frank was also a leading light in the village and like his brother became a JP and County Councillor.
With his wife Anabelle they had two children, Alice b1885 and Frank H E b1890.
Frank died in 1935.
REFERENCES. Unless otherwise specified, all references given above refer to catalogue references at the Centre for Buckinghamshire Studies at Aylesbury. (County Record Office)
This print is a section of the Chalfont History website.
Please come back soon.
John Dodd ©2012 www.chalfonthistory.co.uk