Admiral Sir Hugh Palliser
Hugh Palliser 1722/3-1796 Admiral in the Royal Navy, Baronet, MP. Owner of the Vache from 1777 till his death in 1796.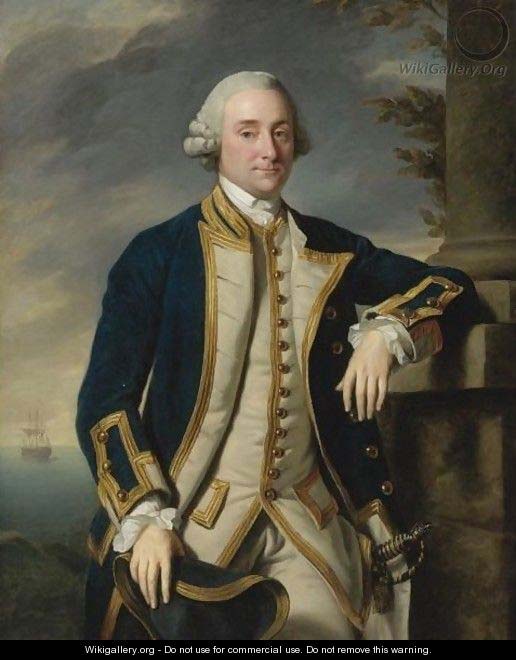 Hugh Palliser was born on 22 February 1722/3, the only son of Captain Hugh Palliser and Mary Robinson, at Kirk Deighton in West Yorkshire. They were an old landed family which had estates in Yorkshire and Ireland.
He entered the navy in 1735 aged 13 as a midshipman and rose rapidly, gaining his first command in 1746 and made Captain in November 1746 aged 24, being given command of the "Captain". In 1748 whilst in charge of the "Sutherland" during the war of Austrian Succession, he was injured when an arms chest exploded on the quarterdeck. He remained crippled and in pain in his left leg for the rest of his life. However he returned to sea and saw service in command of a number ships.
In January 1755 he was in command of "The Seahorse" which escorted a convoy transporting troops to America for the war with the French. As a result of some good sailing and controversial navigation Palliser arrived in just 8 weeks. Commodore Augustus Keppel joined the ship for its return journey and Keppel and Palliser became friends until their famous row 23 years later.
On his return to England, Palliser was put in charge of "The Eagle" which is significant because James Cook, a fellow Yorkshireman, served under Captain Palliser as Masters Mate on this ship for three years. Palliser was impressed with Cook's ability and supported his elevation to Master in 1757. Both men were present at the siege of Quebec where Cook charted the approach to the city and the landing area.
Palliser was active throughout the Seven Years War. In 1762 he was sent to Newfoundland to recapture St John's from the French, who surrendered the day before his arrival on 18 April 1762.
Following the Treaty of Paris (February 1763), Cook was charged with surveying Newfoundland. Palliser actively supported Cook's survey work and helped in the publication of his acclaimed map of Newfoundland.
In 1764, aged 42, Palliser was appointed Governor and Commander in Chief of Newfoundland, a role he held for four years with seven ships and 1000 men at his disposal. His primary task was to expel the French from that territory and police the limited French fishery area. He was seen as very successful in this role. As well as a brave and aggressive sea officer, he was a methodical and industrious administrator.
In 1770 he was appointed Comptroller of the Navy. During his term as Comptroller, Palliser supported Cook's first command of exploration and his subsequent voyages, including the discovery of Australia in 1770. Palliser was to some extent Cook's mentor and the two were firm friends and mutual admirers of each's ability. Cook named Cape Palliser and Palliser Bay on the North Island of New Zealand and the Palliser Isles in the Pacific after his "worthy friend". Cook named his son Hugh after his friend and Palliser was Hugh Cook's Godfather. X
In 1773 he was created a Baronet and in 1774 elected to Parliament for the Borough of Scarborough.
In 1775 he achieved flag rank when promoted to Rear Admiral. A legacy of £5,000 from a former commander, Sir Charles Saunders with whom he had served in the Mediterranean, gave him some wealth although he probably also had money from the family estate.
Under the Earl of Sandwich, First Lord of the Admiralty, he became one of the Lords of the Admiralty and received the sinecure of Lieutenant General of Marines.
In 1777 he bought the Vache estate (excepting Pollards Wood) in Chalfont St Giles from the Rev Robert Hare and his wife Henrietta for £7,700 and some additional land adjoining for a further £1,500. He continued to expand the Vache esate over the following years, buying Gorlands Farm for £900 in 1786 and Hill and Town Farms for £5,000 from the Duke of Portland in 1788.
There is no known link that Palliser had to Chalfont St Giles prior to his purchase of the Vache but Rev. Robert Hare was probably keen to sell as he had just inherited Herstmonceux Castle in Sussex and had just been appointed a Canon at Winchester Cathedral and this coincided with Palliser's increase affluence and probable desire to obtain an estate close to London; although he did have a town house in Pall Mall.
In 1778 he was promoted to Vice Admiral of the Blue (the 5th highest rank in the British Navy) and became third in command for the home fleet. He was appointed to serve as second in command under Admiral Augustus Keppel, Admiral of the White, in the Channel Fleet in 1778. In July 1778 in the First Battle of the Ushant, the Channel Fleet fought an inconclusive battle with the French Fleet. The outcome led to personal acrimony between Palliser and Keppel (who had once been close friends), each accusing the other of ineptitude. The dispute divided the Navy (some in Palliser's camp and some in Keppel's).
This argument escalated until eventually Keppel was court martialled but acquitted. This was so much of a public case that a pro-Keppel mob immediately looted Palliser's house in Pall Mall. Then, as a result of some information that came out in the Keppel trial, Palliser was also court martialled and also acquitted. However the affair had damaged Palliser's public image and reputation, leading to him resigning in 1779 from Parliament and his other official posts. However he was appointed to Governor of Greenwich Hospital for Seamen.
It was at about this time that he heard of his friend James Cook's untimely death and led him to build the monument to Cook which still stands within the Vache grounds.
Palliser was re-elected to Parliament for Huntington from 1780 to 1784. He achieved the rank of Admiral in 1787.
Palliser never married and died at the Vache on 19 March 1796, aged 73. He is buried at St Giles Parish Church where there is memorial tablet to him in the Chancel and a hatchment hanging in the Nave.
He left his estate at the Vache and much of his fortune to his illegitimate son, George Thomas Palliser. His Baronetcy and Irish estates devolved on his grand nephew Hugh Walters, who took the name Palliser. In his Will Palliser bequeathed 30 pounds per year for educating and clothing 40 children at a day school he had established in Chalfont St Giles in 1780.
A copy of portrait of Sir Hugh Palliser painted by Sir Nathaniel Dance hangs in the Painted Hall at Greenwich Naval College.
Acknowledgements in particular to Ian Stewart of Australia who provided the biography upon which this amended version is based.
REFERENCES. Unless otherwise specified, all references given above refer to catalogue references at the Centre for Buckinghamshire Studies at Aylesbury. (County Record Office)
This print is a section of the Chalfont History website. www.chalfonthistory.co.uk
Please come back soon.
John Dodd ©2012