The Stone
The Stone is one of the most interesting house sites in the village. Its history can be traced back with certainty to 1587, and circumstantial evidence points to it possibly being the site of the original mediaeval manor house. As we see it today, it is a large mansion house built in about 1815 and which was a private residence. During or just after WWII it was made into a maternity home. Around 1977 it was converted into flats but recently has again been turned back to a single private residence. It is located on the corner of the Amersham to London Road in Chalfont St Giles and its lands once were larger than today.
It is Listed Grade II. List entry number 1332445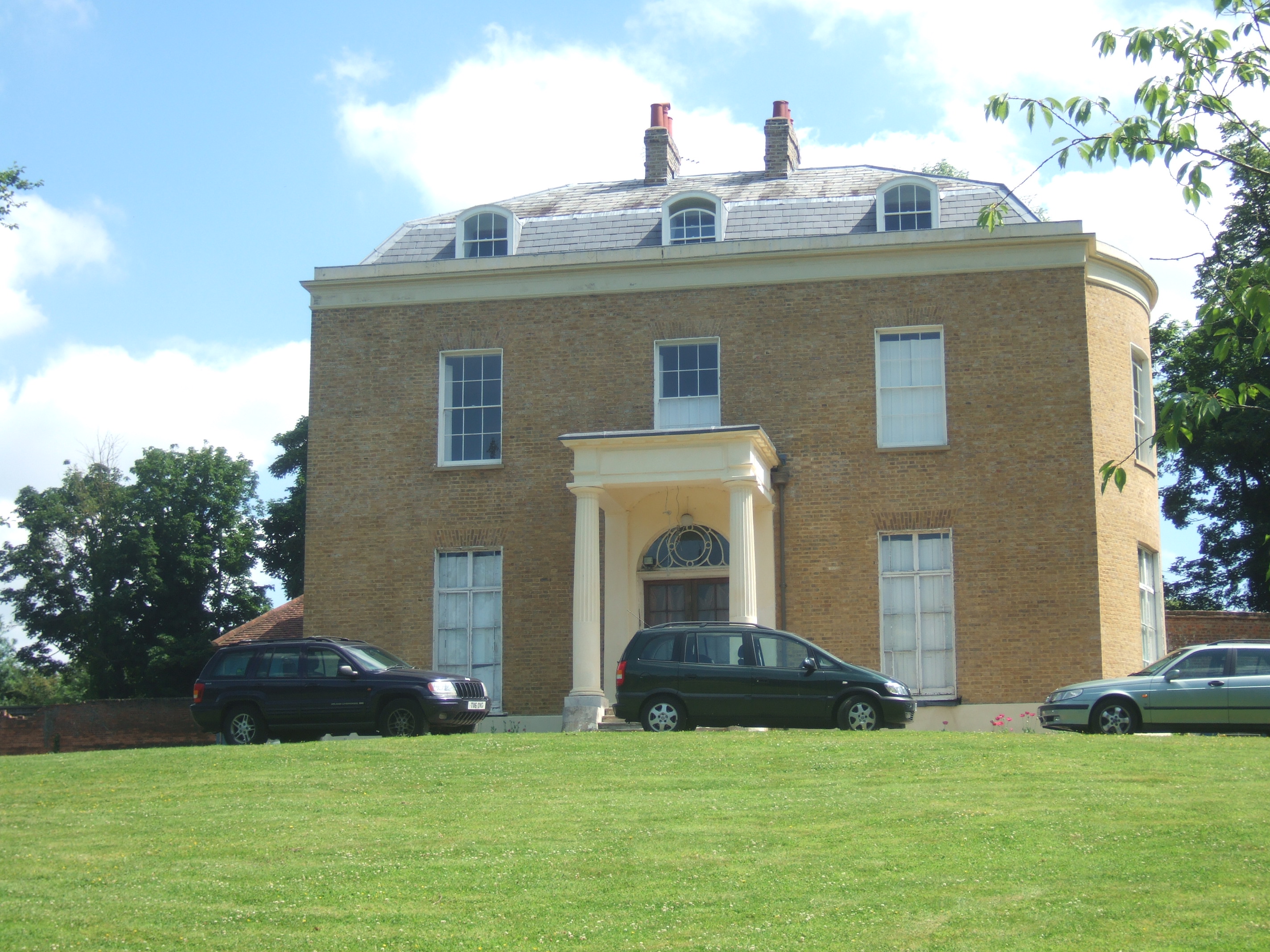 The earliest recorded mention of the Stone House is in 1587 when it was formally transferred from John and Thomas Gardiner to Edmund Verney of Pendley and his wife Audrey by means of a "Fine". Audrey Verney was the daughter of William Gardiner of The Grove in Chalfont St Giles and was already a widow at the time she married Edmund Verney in about 1582. It is probable that the Stone House was part of her marriage settlement and the transaction mentioned above was formalising her and Edmund's ownership. William Gardiner had died in 1558 and John Gardiner was his heir and so inherited The Grove. Thomas Gardiner was probably his brother.
The property that came to Audrey and Edmund Verney appears to have been more than they needed, for a few years later in 1590 they disposed of part of its land to Ralph Hockenhull who was the vicar in Chalfont St Peter.
(The source of most of the property transaction detail is Moore family Deeds CBS AR 69/94.)
Edmund Verney's main residence was Pendley, near Aldbury in Hertfordshire, although he also owned a number of manors in mid Bucks including Middle Claydon which later became the focus of the Verney Family. Edmund was very active in county affairs and was Sheriff of Buckinghamshire once and of Hertfordshire twice. Unlike his father or his son he does not seem to have been active at Court.
Audrey was his second wife but bore him his eldest son Francis. She died in 1588 and he quickly remarried to Mary Blakeney who was already twice a widow and had a daughter by each marriage. She in turn bore Edmund his second son also called Edmund, born 1st January 1590.
10 years later in 1600 Edmund senior died on the 11th January 1600 at Stone House in Chalfont St Giles but was buried a month later in Albury where his ancestors were buried. He seems to have liked the Stone House perhaps because it was relatively close to London. He left a complicated Will which he had previously enabled by obtaining a special Act of Parliament. This allowed him to leave a significant part of his estate, including the Stone House, to his wife Mary then to his second son Edmund when he reached 21. Although his first son Francis inherited a very large proportion of his father Edmund's estate he was very upset by the Will and attempted to get a second Act of Parliament passed to annul the first but this failed. Francis was a very dissolute character always in debt and in trouble. He eventually left England in 1608 to a life of piracy and soldiering around the Mediterranean. He never returned and died in Sicily in 1615.
Meanwhile Francis's half brother Edmund went to Oxford and then travelled in Europe before becoming, in 1610, a courtier in the service of Henry, Prince of Wales. (Henry would have become King Henry IX in place of his younger brother Charles I if he had not died of typhoid in 1612.) In 1611 young Edmund and his mother Mary negotiated for him to marry Margaret Denton but had to find extra money for an acceptable settlement. The marriage eventually took place in 1612. It may therefore have been for monetary reasons that in January 1611 Edmund and his mother Mary sold The Stone to Sir Owen Oglethorpe who already had a lease on the property since 1604 and appears to have resided at The Stone since that time. Little is known about Sir Owen except he had previously owned Holcombe Manor near Wallingford in Oxfordshire; he was a recusant and Sheriff of Oxfordshire in 1585. The Oglethorpes were of Yorkshire stock and were related to the only Catholic bishop to take part in the crowning of Queen Elizabeth I. Having lived at Chalfont St Giles for about 15 years Sir Owen died and in May 1617 the Stone House was sold by his son John and two others (probably Trustees) to Anne Waller.
Anne Waller acquired "The Stone" in 1617 and lived there for a short time before buying and moving to "Little Hall Barn" Beaconsfield. (There has been confusion about this because Anne Waller also took a lease on another property in Chalfont St Giles in 1617. This was called "Stone House alias Westons" and it was situated in Three Households, Chalfont St Giles. (Source D 97/19.).) She and Edmund Waller, her son the famous poet, retained The Stone until 1632 when they sold it to Anthony Radcliffe for £1,000. (Source Moore family Deeds.) This Anthony Radcliffe was born in 1593 in London and was a lawyer. His father Edward Radcliffe was also a lawyer, and his grandfather was a Merchant Taylor and Alderman of the City of London. When he died in 1660, Anthony Radcliffe left The Stone to his son, Thomas Radcliffe, by his third wife. Thomas only lived two years after his father and The Stone descended to his son, another Anthony. This Anthony never married and when he died in 1718 his sister Sarah Turney, widow, inherited the property. Interestingly her husband, George Turney, owned a plantation and a number of slaves in Antigua and he died out there in 1686. After passing through further generations the estate became the property of an unmarried grand-daughter, Mary Turney.
So in 1790 when Mary Turney died she left it to her cousin Lydia Eldridge who by this time had married the Rev. Morgan Jones who was the Curate of Chalfont St Giles Church, had been since 1759 and continued to be so until 1792 when his and Lydia's only son William became the Curate. Morgan Jones died in 1801 and Lydia his wife died in 1805. The Rev. William Jones then took up residence and married a Mary Molloy of Stone Dean, another local monied family. One of William's predecessors had married into the Whitchurch family who were the Lords of the Manor of Chalfont St Peter and who resided at Mumford's Farm. The last of this Whitchurch family was William's cousin Anne Whitchurch. She died in 1809 and bequeathed the Manor and Mumford's to William Jones.
By this time the Rev William Jones was the Lord of the Manor and seriously rich. He obviously decided that the old house of "The Stone" was not suitable so in 1815 it was said to be "taken down" and a new mansion built. It is said that the old house was further down towards the village but the current house has clear signs internally of much older fabric. Unfortunately no pictures of the old house have become known although there is reputed to be one somewhere in the village.
Rev. William Jones died in 1837 leaving a very complex Will. One of his sons had died in 1835 and his main heir and son William died in 1850. Some of his estate devolved first to his wife who died in 1847. After son William died in 1850 the whole estate devolved to the only daughter, Mary. She had married in 1841 the Rev. Edward Moore who was Rector of Boughton in Kent. From 1847 The Stone remained the property of the Moore family up to 1939 but was always leased out.
Continuing the connection with the church the Rev. Henry Palmer Curate of Chalfont St Giles and then his wife were in residence until in the 1880s when the lease was taken on by Colonel Ramsey Weston Phipps (ex Royal Artillery). Col. Phipps was the brother of the then Rector of Chalfont St Giles, the Rev. Pownoll W Phipps, the author of a history of the parish. The last resident I have found a record of is Rupert William Harter who died 7 December 1935 (The Times 10 Dec. 1935). He is described as formerly of Bombay and the son of the late William James Harter. He and his wife Dorothy had at least two sons as the eldest Robert James Alexander Harter married Elizabeth, eldest daughter of Mr and Mrs W Esplin Stewart of Nightingales, Chalfont St Giles on 28 March 1936. (The Times 11 Mar. 1936.) Robert Harter later became the owner of Stone Dean, Jordans, 1952 to 1971.
Rupert Harter had been a resident since 1928 according to Kelly's Directory. Curiously The Stone and 17 acres were advertised on 27 May 1935 in The Times for lease at a rent of £300 pa. This is 6 months before Rupert Harter died.
The house and land were bought by Buckinghamshire County Council 24 June 1938 from Rev. C.A.G. Moore as shown on the map below. (Conveyance held at Legal Dept County Hall.) The house was then used as a maternity home. The land was bought to be part of the original Green Belt.
The first record I have found of a birth at The Stone is 28th December 1947 when a son was born of Mrs Keizner. One of the nurses who was there in the 1960s relates that there were 18 beds and about 6 day staff and 2 night staff. They worked 12 hour shifts and were paid £4, 11 shillings and 7 pence a week.
In about 1977 it was converted into 7 small flats but in October 2001 it was sold for use as a single house again. The current owner has carried out substantial renovations and repairs. The house is difficult to see from the roads although it is very close to the main road and to the road into the village. It is possible however to obtain a good view of the house from the footpath from the village along the valley.
There has never been any archeological investigation of the house and its surroundings or of the fields to the north and west. In view of its long known history and potential previous history there is potential for significant discoveries about the early history of Chalfont St Giles.
------------------------------------------ May 2015
REFERENCES. Unless otherwise specified, all references given above refer to catalogue references at the Centre for Buckinghamshire Studies at Aylesbury. (County Record Office.)
This print is a section of the Chalfont History website.
Please come back soon.
John Dodd ©2015 www.chalfonthistory.co.uk