The growth of the Pollards Wood area.
The Pollards Wood area, which lies along and mainly to the southwest side of Nightingales Lane, was only developed from the beginning of the 20th century. It was made up of the old Pollards Wood and part of the Vache Estate. Some eight large houses with substantial grounds were built within the first ten years but there has been a slow but continual increase ever since and it still remains an area of prestigious houses. Significant architects have been involved and a few of the early house have now been Listed. A number of the occupiers of the largest house have been colourful and well known characters.
The pre 20th Century history of Pollards Wood is covered in a separate page as was the history of the those pieces of land which had formed part of the Vache Estate.
Overview.
The railway had come to Little Chalfont in 1889. There had been some development from about 1890 along Cokes Lane including the layout of Harewood Road. (So-called from the common ownership of the land at the time with Harewood Downs Farm.) But once the Vache Estate was auctioned and the Raffertys, who owned Pollards Wood, started selling off land there was a sudden upsurge in housing development. But these were houses on the a different scale, much larger and on large many-acre plots compared to other developments in the area. Essentially it was the formation of a distinct top market area appealing to the moneyed and top professional classes.
There had been a couple of attempts 10 or so years earlier with the development of Stratton Chase by James Gurney and Roughwood by George Robinson but these looked back to an earlier era of landed estates. These did not provide the type of secluded house with ample but manageable grounds within easy reach of facilities which was the type of market that had come into being. This was provided by the area which had Nightingales Lane as its spine and which we call "Pollards Wood".
The first house was Five Diamonds, built in 1902 by Henry Angus, followed in 1904 by Roughwood Croft and Woodlands, in 1905 Little Pollards. In 1906 Pollards Wood House was completed rapidly followed by Pollards Park, The Tile House and The Lawns. In late 1907 Pollards Wood Grange was built and in early 1908 The Shieling and in late 1908 Stivers. We will look at each of these in a little more detail later. (All these dates are when the house first appears in the half yearly rateable valuation update at Amersham RDC.)
Coinciding with the housing development was the conversion of Harewood Downs Farm into a golf course aimed at an exclusive membership and opened in 1907.
A number of the houses, in particular Pollards Park, were designed by James Forbes or his partnership Forbes and Tate.
Just slightly later, after the coming of the railway to Gerrards Cross in 1906, there was comparable development activity launched there and also in Beaconsfield. Forbes and Tate were the architects to a number of house built in those locations. (This has been documented by Hunt, J. and Thorpe, D. Phillimore 2006 and 2009.)
In Pollards Wood there were no further house built until after WW1 although a number of the existing houses were extended. Silver Birches came in 1922 and, on the north side of Nightingales Lane, Abbots Lea in 1928 and Courtlands and Drum Grange in 1930 came following the breakup of the Nightingales Estate.
From this time on there was an increasing rate of land being divided into plots for building houses although none were on the scale of those built before the war.
The area of Doggetts Wood Lane was originally called the Harewood Downs Estate and was developed by Rust and Ratcliffe in about 1924.
Details.
At the turn of the century the almost 200 acres of Pollards Wood was owned by the Raffety-Vezey family, whilst the Vache Estate was owned by Mrs F Stevens. In 1902 she decided to put the Vache and other nearby land she owned up for sale by auction in 21 lots.(Details about the purchase of the Vache Manor and its immediate surroundings are told on the Vache Estate history.) Those lots relevant to the story of the Pollards Wood area are those to the north of the Vache Manor House alongside Nightingales Lane, Lots 8 to 13, shown here on part of the map in the Sale Particulars held at the CBS. (D/CH/D-76).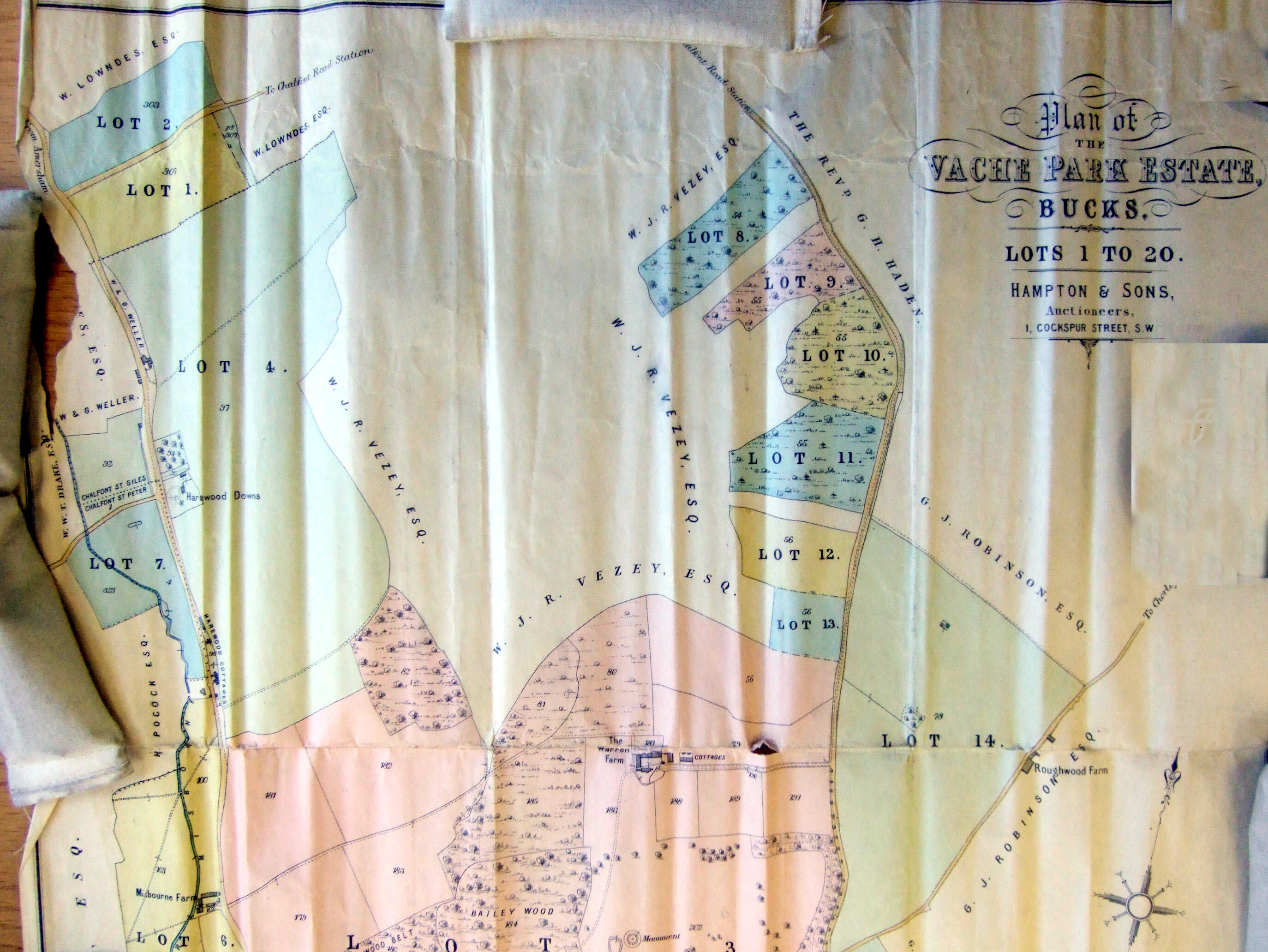 The lots were previously known as
Lot 8. Great Doggetts.
Lot 9. Middle Doggetts.
Lot 10. Little Doggetts together with Little Heathfield.
Lot 11. Great Heathfield.
Lot 12. Randalls Croft (part).
Lot 13. Randalls Croft (part).
Lot 14. Roughwood field and other fields.
These were all uninhabited woods or fields.
These Lots were all bought by different people but only one person immediately built a house on his property and that was Henry Angus who built a house on Lot 8, Great Doggetts. This was called Five Diamonds but it was an earlier version, not the house we see today. The other purchasers all sold their property on to others who then built houses.
Lots 11 and 12 were bought by Edmund Stevens, the husband of Mrs Florence Stevens, who was the legal owner and vendor of the Vache Estate. He also bought Lot 10 jointly with a Horace Walbrook. He almost immediately sold the 13 acres of lot 11 and part of lot 10 to a Mrs Harvey who had erected a house by 1904. This was enlarged and became known as "Woodlands", then "The Hermitage", and later "Hermits Wood". Two acres of Lot 10 were retained by Walbrook until 1922 when it became the site of "Silver Birches". The remaining 6 acres of lot 10 became the plot for "The Tile House".
In passing it should be noted that Harewood Downs Farm, Lot 4 which became the golf course, was apparently bought by a Henry Smith, not by Archibald Grove, although the early transactions for this land have not been traced definitively.
Lots 9 and 13 were bought by C W Raffety who, as we saw in looking at the earlier history of Pollards Wood, was the co-owner of the 193 acres of wood with his brother William Raffety Vezey. On the map above the area of the woods they owned is shown in white with the name W J R Vezey Esq. shown as the proprietor. C W Raffety bought out his brother in 1903 and so became sole owner of the woods, plus he had the two lots bought in 1902 from the Vache. They fitted together well as both the pieces he purchased from the Vache lay alongside strips that he already owned and which led from Nightingales Lane into the bulk of the woods.
Raffety very quickly started selling off parts of Pollards Wood. From the 1904 Valuation Records and subsequent updates we know that at end of 1904 88 acres had come into the possession of Archibald Grove and 27 acres into possession of T A Allan. Over the following year a further 18 acres went to T A Allan and 9 acres to A Grove. (Grove combined these 9 acres with 7 of his existing acres to create a separate holding from his main holding for Little Pollards. He also separated the long piece that ran between Five Diamonds and Pollardswood Grange on which a further house for rental could be built. (This was Stivers.) There may also have been some land exchanges but without the Deeds it is not possible to be sure. Raffety also sold in April 1905 a 1 acre long strip of land to the west of Five Diamonds to Christina Herringham who by then owned that house.
Looking at the individual houses in more detail.
Henry Angus had built the original Five Diamonds (named in honour of his five daughters) in 1902/3. (See some notes on J H Angus.) It was a large prefabricated building by Boulton and Paul and intended as a holiday home for the family. Angus also had a design for a house produced by Voysey in 1902 which was not executed. Five Diamonds was described later, in 1915, as an extensive bungalow of brick, roughcast and wood beams under a tiled roof. He sold the house after a very short time in November 1904 to Dame Christina Jane Herringham, artist and copyist and a major figure in the study of tempura painting techniques. (See Oxford DND entry.) Married but with independent means she probably bought the house as a second home or country retreat. However she became unwell and leased it in 1909 to Howard Talbot, conductor and composer.
He and his wife stayed there until in April 1921 when they purchased it from the Herringhams only to quickly sell it on to Helen Theodora Tetley in May 1922. She was a spinster and daughter of H G Tetley, Chairman of Courtaulds Textiles.
Miss Tetley had the main part of the original house demolished and a substantial new house and gardens designed by James E Forbes, built by Rust and Ratcliffe and completed in November 1926 (source ARDC surveyors lists). Forbes design is quite different to his earlier designs for the other houses and seems to have drawn on his recent experience of renovating Barrington Court in Somerset.
Miss Tetley was a breeder of championship cocker spaniels which she exhibited.
The original Five Diamonds and Woodlands were built before a new Building Control Committee was introduced by Amersham RDC in 1904. The first house approved by them in Pollards Wood was in November 1904 for Archibald Grove followed by one in February 1905 for T A Allan and then by another for Grove in October 1905.
Allan's House was Pollards Wood House. A detailed history of Pollards Wood House is here as a PDF file. This house was NOT designed by Lutyens but by James Edwin Forbes although it must be said that Forbes design is not dissimilar to the design that Lutyens did a couple of years earlier of a house for Archibald Grove.
Archibalds Grove's two houses are Pollards Park and Little Pollards but which came first we cannot say for sure from the information available. It is probable that Little Pollards was the first house built. This could be a house in which Archibald Grove could live whilst Pollards Park was being built, he having sold his previous house, Berry Down Court in Hampshire, in 1902. Compared to Pollards Park, Little Pollards would be a simple build. Once Pollards Park was completed Little Pollards would not be needed and could be leased out, which it was, to Horace Woodburn Kirby.
A detailed history of Little Pollards is here as a PDF file
Pollards Park was designed by James Edwin Forbes who was only 28 and had just recently branched out on his own in Birmingham. How he came to be chosen by Grove to build his houses in 1904 is unknown. He joined in partnership with Duncan Tate in 1905 and they then forged a successful practice.
The house as originally built was striking in appearance and cost £4,500 for the house and £600 for the lodge and ancillary buildings (TNA IR58/39394).
Its overall format and layout with a courtyard in front is reminiscent of Grove's earlier house Berry Down Court. Grove remained the owner but it was occasionally leased out. It seems to have remained unchanged until after Grove died in 1920 and the house was sold in late 1923 to Charles Hare Leonard who was a partner in a major British petrol refining company, Carless, Capel and Leonard.
He made substantial changes to the house in 1924 and although it has yet to be proven, he probably built the ballroom wing. He also added a cottage and made changes to The Lodge. (The building control references are DC 9/22/1/1924/155/5-7 but the plans do not appeared to have survived.)
Leonard remained at the house until WW2 when in August 1942 it was requisitioned by the Government as a training centre for the SOE. Leonard moved to a house called Crossways across Nightingales Lane (now called Welmans) where he died in April 1948. He remained the owner of Pollard Park. The house was eventually returned to Leonard by the Government in Sept 1945. (Nat. Archives WORK 50/24.) After his death it was acquired by the Roxy Trading Company who applied in July 1949 (Amersam RDC 627/49) to convert it into four separate dwellings. This was granted and and implemented and they were advertised in The Times 26 July 1950 at prices from £5,000 each.
The other house built by Archibald Grove was Stivers. This utilised the wide strip of land that Grove owned leading up to Nightingales Lane and along which the drive to Pollards Park ran. This was an opportunistic move by Grove to build a house without impacting on the setting of his main property and which he could lease out. Here it is as shown in an photograph taken in 1909 and appearing in "The Architect" of 7 June that year.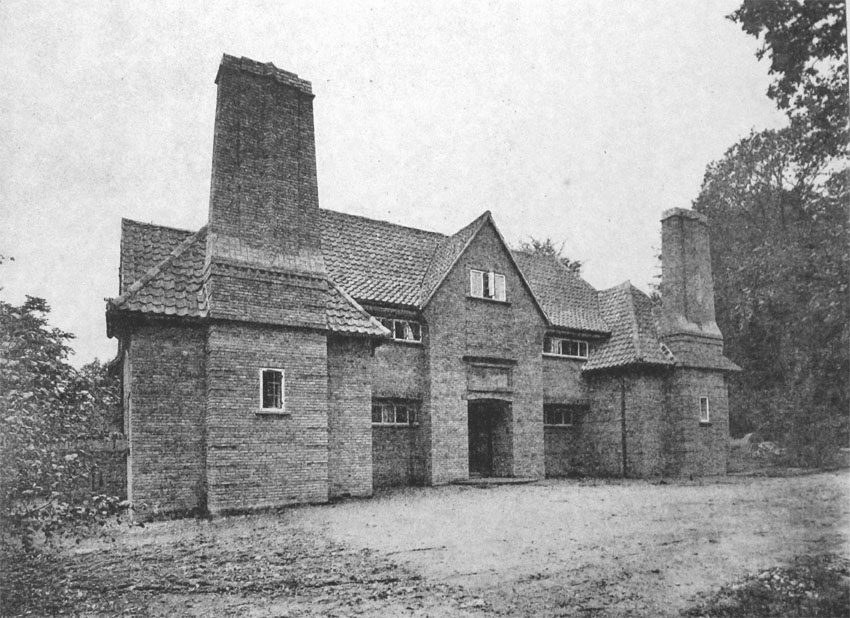 Jame Forbes, who designed the house, commented to the Inland Revenue surveyors in January 1913 (TNA IR58/39394-34) that this house was built cheaply because other houses near by were being built at the same time. (Pollards Wood Grange and The Sheiling.) It cost £1,700 instead of £2,500 which Forbes estimated it would cost if built alone.
It was rented by Oswold Robert Mounsey who was a financier, from before 1911 until after 1915. Groves sold it in 1920 just before his death to a William James Greener who doubled the size of the land that went with the house by buying an equal sized piece to the original extent in 1921. There are no entries for the house in the Kelly's Directory for 1920 or 1924.
From 1928 to 1939 the house was occupied by John Abdy Combe and his wife Mary Edith. John Abdy Combe was from the family that owned the Combe Brewery in Long Acre before it was acquired by Watneys in 1898 to form Watney Combe and Reid, one of the largest brewery companies in the country. John Combe was a director of this company until his death at 65 in 1929. Stivers was their "country" house. They had a town house at 6 South Eaton Square, London. After John Combe's death his wife became a life tenant of Stivers and remained there until it was requisitioned by the Government in September 1942. She regained possession in November 1944 although the claim for money was not settled until June 1945. She died in 1948 and the house was advertised for sale in The Times of 27 Sept. 1948 described "picturesque county residence with 4 acres".
The next occupant we know is Ronald Gordon Troup who was listed in Kelly's Directory as being there in 1952. He was a consulting engineer and presumably had overseas contracts because in January 1953 he embarked on the Caledonia going to Karachi with his wife Annabella and daughter Moira. The passenger list gives his address as Stivers. His trips overseas may be the reason he sold the house in August 1954 to the Hon. John T A P Addington who became the 7th Viscount Sidmouth in 1976. Addington had just returned from Kenya and had become a director of Joseph Rochford & Sons. It is up for sale through Savills in May 2015 at £3.95 million, externally looking very similar to as it was in 1909.
Before leaving Stivers we should look at its land holding and that of the surrounding houses. Looking at the map for the Inland Revenue valuation of 1912/13.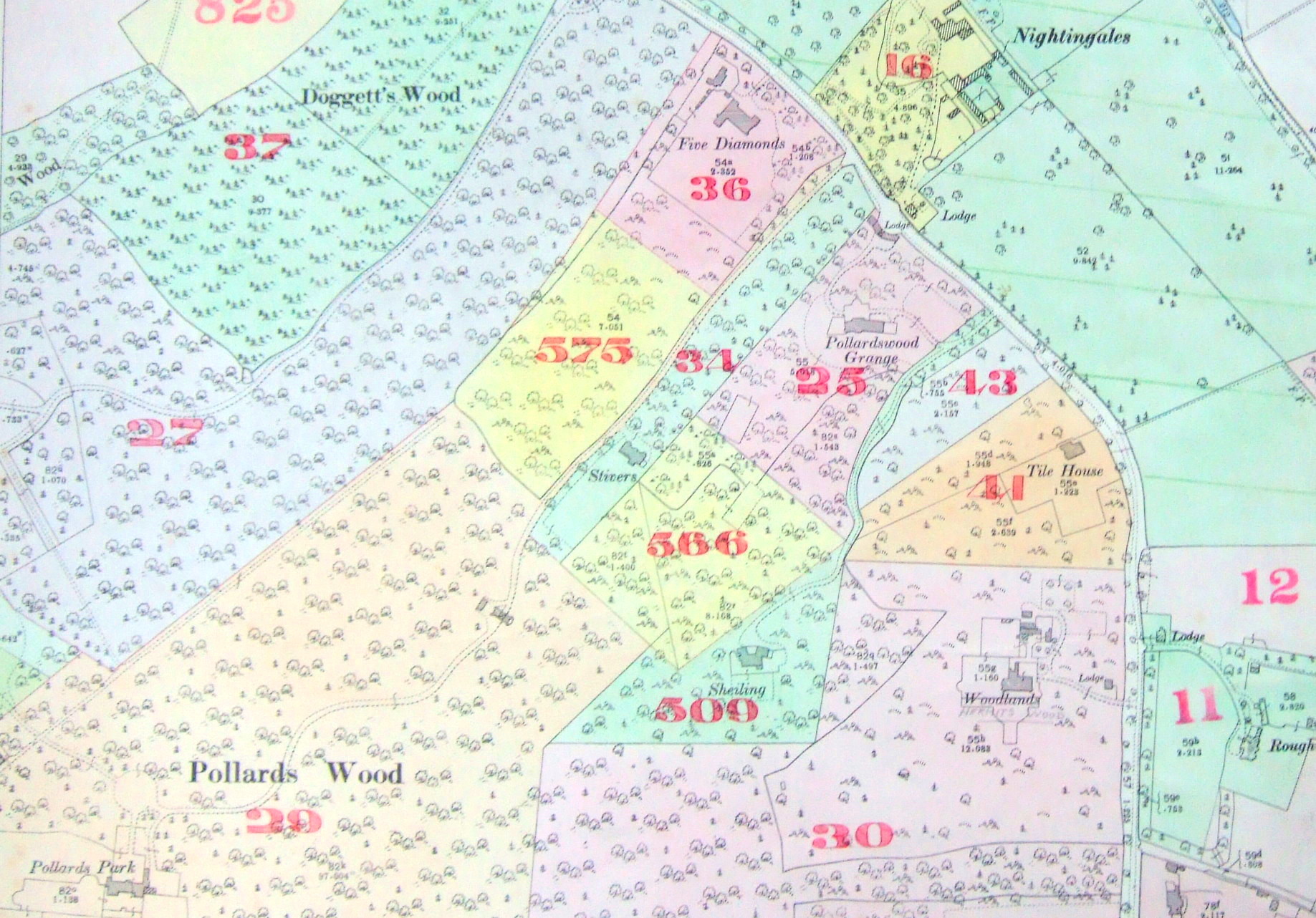 We see Stivers on the long strip 34. Although this appears separate from the main Pollards Park holding 29, this because Grove wanted it valued separately.
Plots 25, 566 and 500 were the remaining land that C W Raffety owned after selling off the land for Pollards Wood House, Pollards Park and Woodland (later called Hermits Wood). From conveyances referred to in the Land Registry title to Pollards Wood Grange he appears to have sold it all to James Forbes who in turn sold plot 25 to Madame K N Dracopoli on 2 July 1906 and plot 566 to Frances Ethel Chance her cousin on 3 August 1906. Plot 500 he retained for himself.
Pollards Wood Grange was built on plot 25 to a design by Forbes which Pesvner 1994 described as like a large cottage. Forbes also designed its curved and thatched gatehouse. It was completed in September 1907. Madame Dracopoli was born Katherine Navarre Chance, the daughter of one of the Chance brothers who owned Chances Glassworks which was a leading British glass manufacturer and a pioneer of glassmaking technology. She had married in 1882 Nicolas Francisco Dracopoli 15 years her senior, an artist and with plenty of money and a house in Antibes. He died in January 1906 and his widow bought the land for the house in July as noted above. Katherine Dracopoli sold the house 18 May 1918 for £4,200. (TNA IR 58/39394)
The next owner was Edward William Weldon and his family. He was a publisher specializing in paper patterns and journals focusing on the home. He appears to have sold the company in 1935 but was still at Pollards Wood Grange when he died at 88 on 7 July 1936. His widow stayed on in the house until she died in January 1942.
The house was now acquired by Dorothy Paget who had been living at Hermits Wood for the previous 3 years. Within a few months the house was requisitioned by the Government for use by the SOE. It was eventually derequisitioned in October 1945. Dorothy Paget remained the owner until her death in 1960. She presumably leased it out because in 1952/3 the Amersham Directory record it is being occupied by Alfred Haase about whom there is no information.
Pollards Wood Grange with 6 acres was advertised in The Times in April 1960 together with Hermits Wood. It found a buyer straight away. The next change I am aware of is in 1983 when it was advertised for sale at £335,000. (Country Life 3 Nov. 1983)
Turning now to The Sheiling. This was a house which James Forbes designed for his own use and which he occupied until just before his death in 1955.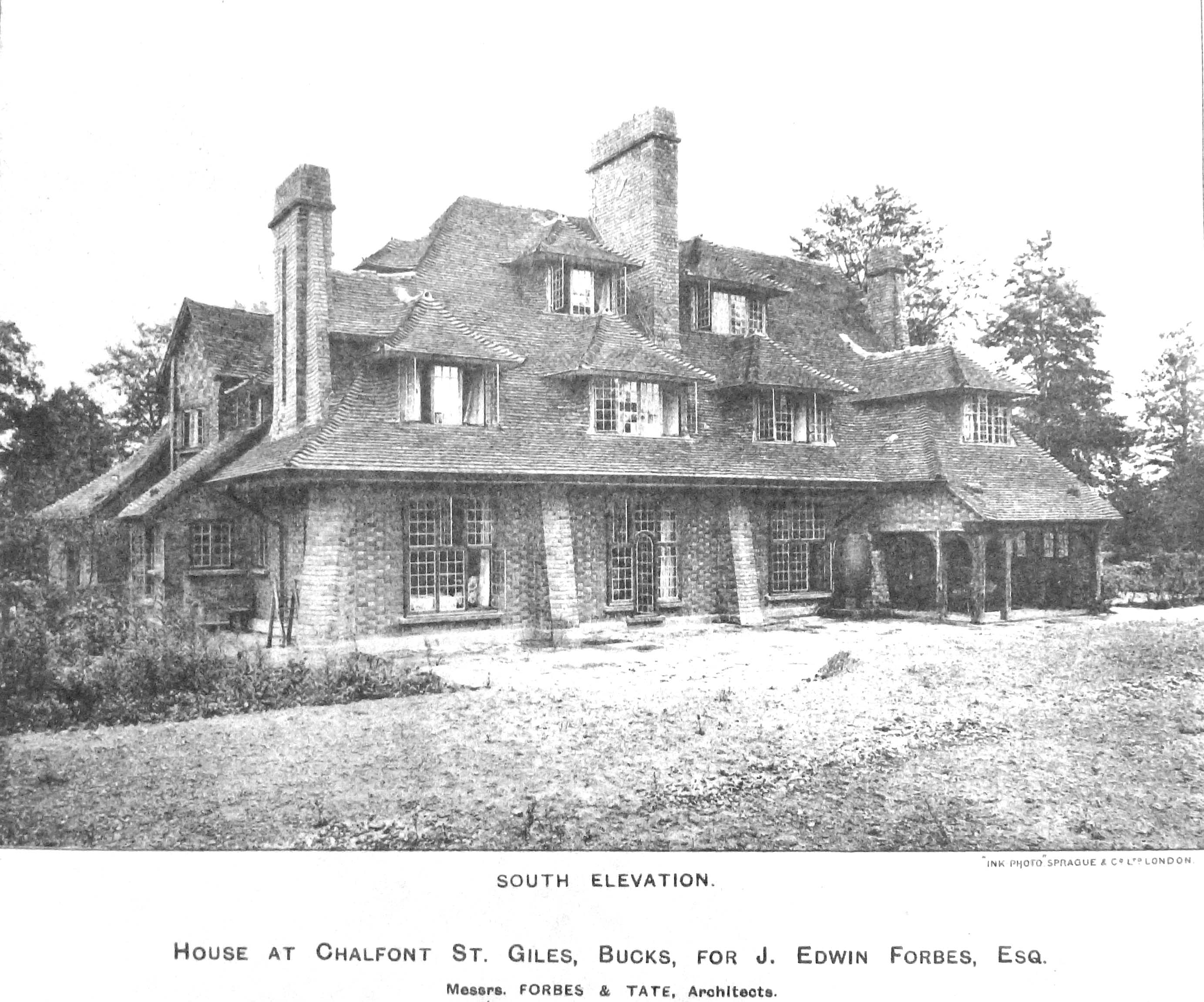 This image is from "The Architect" of 7 June 1909.
It was offered for sale in The Times 1 April 1952, described as The Sheiling with three reception rooms, seven bedrooms and three bathrooms with 9 acres.
In 1986 it was owned by a Mr and Mrs Grove. In 1994 the owner was a D Reuben. It was bought in August 1997 by the singer Noel Gallagher.
Another house close by is The Tile House originally built by Edward P Edkins-Clarke, a young boot and shoe dealer from Kensington, on 4 acres of what had been Lot 10. It was completed by 1906 but within two years his wife died and he almost immediately sold the house in August 1908 for £2,225.
The purchaser was Gerald E C Maconchy a recently qualified solicitor but from an Irish monied family. He had a young wife and 3 daughters. The second one Elizabeth became a famous composer of chamber music and was made a Dame. (See Oxford DNB entry for Maconchy, Dame Elizabeth Violet (1907–1994), composer.) Maconchy bought two acres extra land and expanded the house, described in 1913 as a brick and tiled house with tile hanging to the upper floors, 3 living rooms 7 bedrooms and bath, gardens, summer house, tennis lawn, and a motor shed. In 1918 he sold it to T L Forbes for £3,500.
Thomas Lawrence Forbes was a Lloyds Underwriter and the son of Thomas Forbes, Chairman of Price Forbes at Lloyds, and who purchased and rebuilt Rushymead at Coleshill in 1924. Thomas Lawrence Forbes stayed at The Tile House until at least 1939. By 1952 it is occupied by G Paxton but no further details have been found.
Woodlands, The Hermitage, Hermits Wood, and Ellwood Hall. Also Elmswell House,
In summary the original house Woodlands became known as The Hermitage by 1924. It was renamed Hermits Wood in the 1930s and was then demolished and a new building on the same site was named Ellwood Hall in 2002. One parcel of land was separated away and Elmswell House was built on it in 1934.
The original house Woodlands on this site was one of the earliest and was built for a Mrs Harvey in 1904 just before the new building controls were introduced. She had bought the 13 acres from Edmund Stevens which were lot 11 and part of lot 10 at the Vache sale. Nothing is known about this Mrs Harvey but she sold in 1904 the house and grounds to Alexander Duncan Gordon who was a brewer in Islington and Camberwell, London and had a town house in Hampstead. He made a number of extensions and additions to Woodlands and its ancillary buildings including its own engine driven electricity system. He also bought in 1907/8 a further 36 acres from C W Raffety and Edmund Stevens making up the area of land shown as No 30 on the Inland Revenue map above.
A D Gordon died 29 April 1915. His widow Alice Elise Gordon retained the property until some time in 1928 when she sold 23 acres and the house, known at this time as "The Hermitage" to Lady Mabel Blair. Alice Gordon retained two plots of land one of 4 acres and one of 9 acres. She must have sold other land at an earlier date. In 1934 she appears to have sold a 4 acre parcel of ground to Mrs Kate Annie Durrant who built Elmswell House on it, which we will return to later. Alice Gordon died in 1941 but had moved away by then.
Lady Mabel Blair was the wife of Sir Reginald Blair, a Conservative MP from 1912 to 1922. In 1928 he was Knighted and in 1928 appointed the first Chairman of the Racehorse Betting Control Board, a statutory company which later became "The Tote". In 1935 he was elected MP for Hendon but in Oct 1936 his wife died. He remained at "Hermits Wood", as the house was now called, until at least the end of 1937 as his son's engagement was announce from there (The Times Sept.14 1937). Within the next two years he sold the property to Dorothy Paget.
No details have been found but she was a fanatical race goer and gambler and very rich and Sir Reginald was chairman of the Racehorse Betting Control Board so it is highly probable that a private sale was arranged. She was very eccentric and stories about her abound. For example on July 24 1943 Dorothy Paget of Hermits Wood pleaded guilty to using a hire car to go more than 75 miles from where it was normally kept! (She went to Salisbury Races.) She was fined £25 and 10 guineas costs.
(For details of her life see Oxford Dictionary of National Biography, Paget, Dorothy Wyndham (1905–1960), racehorse owner and eccentric.) She lived at Hermits Wood until her sudden death in 1960.
As noted above she acquired Pollards Wood Grange in 1942 and seems to acquired some of the land that used to belong to Pollards Park since the Hermits Wood estate amounted to 43 acres by 1960.
In April 1960 after Dorothy Paget died, her estate of Hermits Wood and Pollards Wood Grange was advertised in The Times April 28 1960 by Knight Frank and Rutly. The Hermits Wood house was described as containing four reception rooms, eight principal and four staff bedrooms, three bathrooms; main electric light, power, gas and water; central heating; garage for three with two rooms and two bathrooms over; Lodge and a cottage each with bathroom; well maintained gardens; lawns; productive fruit and vegetable kitchen gardens; paddock and woodland. All extending to about 43 acres. Pollards Wood Grange is described as has a pleasant situation and is surrounded by about 6 1/2 acres. It contains hall, four reception rooms, eleven? bedrooms and four bathrooms; main electric light, gas and water; in the centre of natural woodland traversed by winding walks; lawns; kitchen garden. Both were offered for sale freehold.
Pollards Wood Grange appears to have been sold immediatly but Hermits Wood was advertised on two further occasions, the second time being for auction in July 1960 when it was withdrawn at £20,000. On September 30, 1960 it was reported that the house and about 9 and three quarters acres of land had been resold to a client of A C Frost and Company. This appears to have been Albert Hall (Nottingham) Ltd land agents who then unsuccessfully applied to break it up and develop it as separate properties. It is unclear what happened to the remainder of the land.
I have no photos of the house and cannot find any from any of my sources. This may be because it was in bad condition and unphotogenic. The main house was converted to flats and the various external staff quarters came into separate ownership. It remained largely unchanged until it was acquired by Kebbell Homes who applied successfully in 2002 to demolish the old house and build a new building in a Georgian style of 3 stories with 5 flats with underground parking within communal grounds of 13 acres. These were offered for sale in 2007 under the name of Ellwood Hall.
Returning now to Elmswell House. Mrs Durrant had recently become a widow. Her husband William Durrant had started a press cuttings company in 1880 which become very successful and its successor is still one of the largest. He was much older than her and had retired to Elmswell in Suffolk. His widow inherited a large sum and acquired a plot of land in Nightingales Lane, built a new house which she called Elmswell House. It was designed by Sir E Guy Dawber a noted architect of small domestic properties and a past President of RIBA. (See Oxford Dictionary of National Biography.) It was built by Jesse Mead. The plans (DC 9/22/1/34/3370) are interesting and show that it was intended to be occupied by Mrs Durrant and her nephew, believed to be Geoffrey Arthur Durrant-Wright the son of her younger sister and who took over and ran the Durrant company. However for some unknown reason the house was then sold within a year to William Ernest Duck who immediatly employed Dawber to design extensions.
W E Duck was the Chairman of Firestone Tire and Rubber Company in the UK. (Some may remember its Art Deco factory on the Great West Road.) He remained at Elmswell through the war and until the late 1950s when he moved to Gerrards Cross to a house called Little Elmswell.
Since that time the house has undergone many extensions and additional buildings. The first new owners were Albert Hall (Nottingham) Ltd who also, as noted above, had bought Hermits Wood for development. The following owners were R Studwick and S S Jabr and most recently Sheik Hamad Al Sharqi.
Other houses are still being researched and will be added to this page when available.
Sources
Because we have no primary evidence from its Title Deeds for the first appearance of the house or its subsequent history, we must rely primarily upon evidence from the records of Amersham Rural District Council held at the Centre for Bucks Studies in Aylesbury. These include the valuation records which start in April 1904 and have six monthly supplementary updates of changes, the records of the Buildings Committee, (DC 9/1/81-82) and those of the District Surveyor (DC 9/22/1-3). Supplementing these local records are the records from The Inland Revenue valuation of all property in the country. Carried out in this area in 1912/13. (TNA IR 58/39394-39400) Other useful records have been Kelly's Directory, the ten yearly population census of 1911 and earlier years. And of course much hunting on the Internet.
Attached is an appendix to explain the local building control in the early 20th century.
REFERENCES. Unless otherwise specified, all references given above refer to catalogue references at the Centre for Buckinghamshire Studies at Aylesbury. (County Record Office.)
This print is a section of the Chalfont History website.
Please come back soon.
John Dodd ©2012 www.chalfonthistory.co.uk