Stratton Chase - Some Notes on its History.
The existence of Stratton Chase House and its estate was but a brief period in the long history of Chalfont St Giles. It was the creation of James Gurney in the 1890s, and was sold to a Henry Pocock in 1898 who enlarged the house and expanded the land to over 600 acres. He retained it until his death in 1921. The estate was then gradually sold off and part of the land developed for housing from 1922 onwards to the present day. The documentary evidence is that main house remained in being and complete certainly until 1927 and possibly as late as 1935, although the last recorded resident was in 1923.
This is a narrative history. You can also see on a separate page a detailed chronology
The key figure in the story is James Gurney, who came from a prosperous farming family but was essentially a land developer. At various times he described himself as a farmer, land agent, or auctioneer, and he and his brother William and cousin Henrietta Healy speculated in land over a wide area including property in Aylesbury, Chesham, and in Gerrards Cross as well as in the Chalfonts. The railway had just arrived in the area and the Gurneys profited from the market for land and development opportunities. Many people wanted a house in the country and were moving out from London. How often James Gurney acted for himself, and how often he acted as an agent for others, is not always clear. As an example Harewood Downs, which had existed as a 130 acre farm since at least 1696, was sold in 1900. James Gurney bought the existing Harewood Downs House and a small part of the land, which he quickly sold on in 1904 to a Herbert Humby. In this transaction he seemed to have acted for himself, whereas he also seems to have been involved in some way in the purchase of the remaining and major part of Harewood Downs farmlands to form Harewood Downs Golf Club, where he seemes to have acted as an agent.
James and William Gurney were two of the four children of a James Gurney who, in 1838 jointly with his brother Henry, was the tenant farmer of Hill Farm and Town Farm. They also occupied the Chalfont Mill. All of this land was owned at that time by William Morten of Amersham who had bought it, together with Rowwood Farm (now Roughwood), in 1826 from George Palliser, the heir of Admiral Palliser of the Vache. Henry Gurney soon went on to farm White End Farm in Chesham leaving James Gurney senior farming Hill and Town Farms with his sons, James and William. William Morten died in 1861 and left his lands to his sons. Thomas Honnor Morten, a chemist living in Amersham, who now became the owner of Rowwood Farm, and John Garrett Morten, a lawyer living in the City of London, who became the owner of Hill and Town Farms and the Mill. We know from the County Rate Book that this was still the situation in 1867.
In 1864 James Gurney Senior bought the freehold to Hill and Town Farms (285 acres) and the Mill. He paid £10,500 plus a further £1,500 for the value of the wood. James Gurney Senior died in 1878 leaving an annuity to his widow Elizabeth, and the land jointly to his two sons. In the meantime James Gurney Junior had married Elizabeth Stratton of the prosperous Princes Risborough farming family. The family history of the Gurney family is very tangled and complex. An uncle of James and William named Joseph Morten Gurney had married, in 1844, Harriet Wright the heiress of Elizabeth Parker of Bottrells, so this house and lands too came into the family. Although Joseph and Harriet owned Bottrells they never occupied it. They farmed Whaley Farm near Maidenhead. Bottrells was occupied for many years by James Gurney, and he was certainly there in 1881 and 1891. At this time William was occupying and farming Town Farm and the Mill.
James had bought out William's share of their inheritance, probably for £8,000 in 1878, since he took a mortgage out on the whole property on 19th July 1878. William became a tenant of James. James also appear to have owned Sandford's, which was called "Town Villa". This had been sold by Henry Sandford to Morton in 1862 and so was included in the 1864 purchase by James Gurney from Morton. (Source Indentures held by A C Frost Ltd.)
As James Gurney owned both Hill and Town Farms he owned all the land between Hill Farm Lane, and Dodds Lane and the River Misbourne. Initially he did not own any land on the north side of the river except some meadow near the Mill and one small piece at the far end of the land which gave access to the London Road. This latter piece was eventually to prove very useful in enabling him to provide a back drive. He gradually bought up other pieces abutting on to the original holding so that the extent of the estate was as shown on the map below.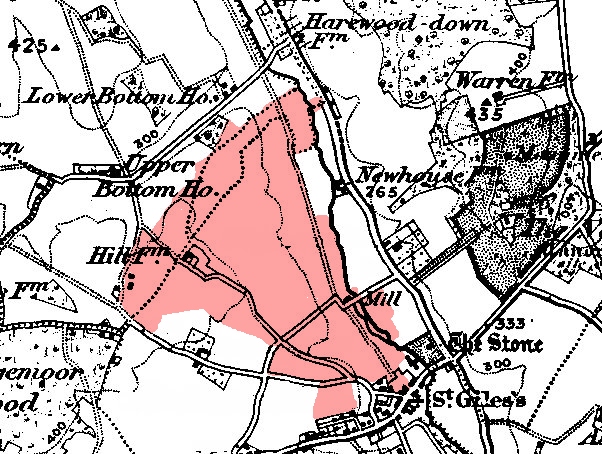 In the 1880s and 1890s James Gurney embarked on the conversion of most of this land from being the farm land it had been since time immemorial, to being a landed estate with a mansion house at its centre. He is recorded as stating he did this purely as a speculative venture.
In fact he had started taking action as soon as his father died because in April 1878 he wrote to the Parish asking for permission to put a gate at each end of Dodds Lane, which he called "Dodds Bottom". He said no one used it, but if they did it would be more convenient for them if he fenced it off. A special meeting of the Vestry was called and took place but the issue was resolved by the Chairman saying it was not within the power of the Parish to block up public roads.
In the autumn of 1891 James flooded the meadow immediately above the mill by lowering its level and diverting water from the Misbourne in order to make a lake. He did this "to improve the value of the property". In 1893 he was sued by his neighbour, Colonel Moore of The Stone, and a number of other people downstream for loss of water. James Gurney lost the case and effectively had to reinstate the lands and to pay all costs. The banks around this meadow (in which the pumping station now stands) can still be seen.
This action also caused many local people to complain that they could no longer water their cattle at the ford and the Parish Surveyor was authorised by the Vestry to seek an injuction unless James Gurney allowed the water to flow again.
In 1895 James Gurney ran into financial difficulties and was declared bankrupt. The whole estate of Stratton Chase House, Hill and Town Farms, the Mill, and Sandford's, was put up for sale by order of the Mortgagees. It was advertised in The Times on the 18th of May 1895 and in the Bucks Herald on 15th June 1895, shown below. However it was not sold at this time.


The most probable source of the name Stratton Chase is after James Gurney's wife's maiden name Elizabeth Stratton.
From the extensive reports in the Bucks Herald of what James Gurney said at his bankruptcy examination we learn something about its initial development. He said it was a speculative development which he started very soon after inheriting the land and buying out his brother's share. It is not clear when building work started although it seems unlikely to have been before 1890. In July 1895 the house was structurally finished but not complete internally. James Gurney said he was living there in two rooms "but the rooms are not papered and the roof does not keep out the rain". In that year that Kelly's Directory gives James Gurney's address as "Bottrells and Stratton Chase". Previously his address was always given as "Bottrells". The house was clearly not built in 1891, or at least not occupied, and the drive did not extend into the village since at the time of the census in that year William Gurney was still living at Town Farm in the village.
The total cost of the the Stratton Chase house and estate development was put at £18,700.
A sale was eventually concluded in April 1898 by the Bank and Elizabeth, James Gurney's wife to Henry Pocock. The price was £25,000 of which the bank took £20,000 and Elizabeth Gurney took £5,000. James became solvent again by 1898 and continued to speculate in land in the local area. Within a few years, in 1906, he bought a 1876 acre estate in Cumbria called Ireby Grange to which he retired and where, in 1933, he eventually died.
Some information has been found about Henry Pocock's family and background. In 1898 having just been made a widower and at the age of 58 he bought Stratton Chase. He took up residence and in 1901, at the time of the Census, had living with him his married daughter Ada and her husband William Newton, who is described as an "analyst" (whatever that was). Also in residence were his younger daughter, Mary, and a friend. They had six indoor staff comprising a butler, a footman, two housemaids, a cook and a kitchen maid. There was a head gardener, two domestic gardeners, and an under gardener. In addition there was a coachman and two grooms.
Henry Pocock also owned Brentford Grange Farm, Upper Bottom House Farm, and Kirby Brickyard, all in Amersham. When he acquired these is not yet known. In 1902 he took out a mortgage for £27,000 on the total estate and to establish the level of security the mortgagors required a survey to be carried out. This was done by a Frank Newman and a copy of his detailed report survives and is our best description of the estate and the houses on it. From this document we know that Henry Pocock had already made major extensions, alterations, and improvements to Stratton Chase House since 1898 when he purchased it. He had also made improvements to Hill Farm buildings. Since this was only about 10 years after Stratton Chase had been built we must assume that James Gurney had being economical in his construction. This tends to support the conclusion that it had been built as a speculative venture.
There are a number of other public documents that are available to give information about the house. The first is the 1910-1915 land evaluation carried out by the Inland Revenue which includes an outline plan showing all the changes made between 1898 and 1910.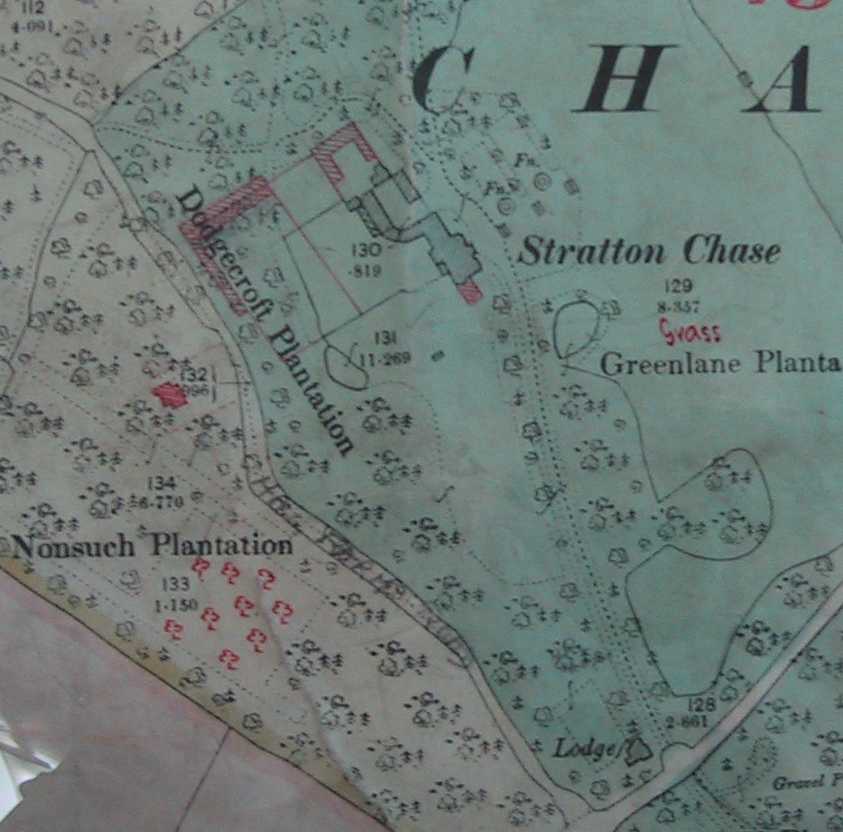 Some changes are described in the 1902 survey but there seems to have been further substantial ranges of buildings or greenhouses erected in Dodgecroft plantation.
This picture shows the house from the south in about 1912.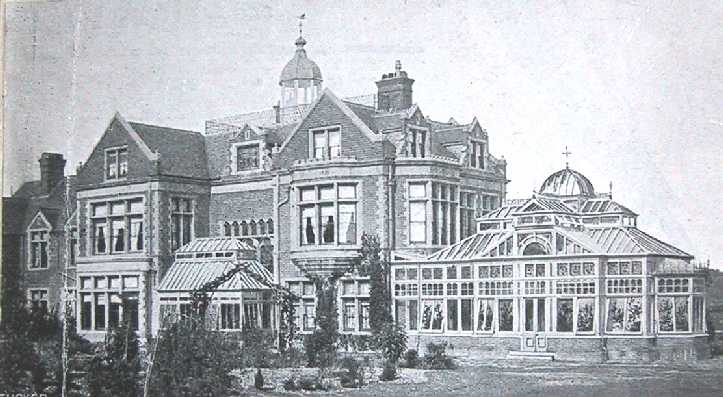 Although Henry Pocock appeared to have remained the owner until he died in 1921, for much of the time he appears to have leased it out rather than occupying it himself. He moved to Sandford's in 1905 where he seems to have resided until his death. We know a number of these tenants from Kellys' Directories which are a useful source of information for this. They list Henry Pocock as the owner and resident in 1899 through to 1907 when, although he is still the owner, the resident is listed as Joe Lewis Esq. In late 1907 and early 1908 the Local Rating Valuation lists say that the house is unoccupied. In late 1910 and early 1911 Sir James Woodhouse lived there. The engagement and the marriage of his daughter were announced from Stratton Chase in these years in The Times. The tenant in about 1911/2 was C Greenaway whose name appears as the resident in the Land Valuation Survey.

The Local Rating Valuation lists show that the house was again unoccupied from 1913 to 1916.
In 1917, on 17th March, Harrods advertised in The Times a furniture sale including property removed from Stratton Chase in Chalfont St Giles. Whether this was the property of Henry Pocock or of tenants we don't know.
In April 1917 Henry Pocock, who by now was 78, leased out most of Hill Farm (172 acres) to Tom Pollard, but he retained land between the house and the village.
Another resident arrived in 1918/9 - a Jason Henry and the rateable value was increased.
The following year Henry Pocock sold off the 8 acre Dell Field to Amersham District Council who started to build 20 "Cottages" on part of this land. This is almost certainly Albion Road.
Kelly's Directory for 1920 lists E A Cumberbatch as the resident of the main house.
Henry Pocock died in 1921 and his estate was administered by Pocock's Estate's Trustees Ltd. There was still a mortgage outstanding so the mortgagors were the actual vendors. The estate was sold in 1922 in three major pieces.

The part of the estate, which was Hill Farm reverted essentially to its original size of 146 acres and as one landholding. It was sold on 5th September 1922 to Tom Pollard after whose death in 1941 Hill Farm House was separated from its lands. The farm house was then acquired as a private residence and the lands were bought, and are still owned, by Bucks County Council in conjunction with the LCC and Amersham District Council as "green belt".
The land and buildings from Mill Lane to the village comprising some 51 acres and including the Mill and Sandfords came into the ownership of H Falkner. H Falkner started developing his land by building a succession of houses on large plots, the architects being Collett and Hamp, and the builders were Falkner & Sons.
The main house and the land (73 acres) on the west of Mill Lane were bought by N W Gurney. He was the son of James Gurney, the original builder.
Interestingly Kelly's Directory for 1923 still lists E A Cumberbatch as the resident a year after its sale. This is quite feasible because a change of owner did not necessarily imply that the resident has to leave. It does however imply that the house was habitable two years after local legend has it that it had been destroyed.
The next record of the estate is when the main house and 65 acres of land were offered for sale by Hampton and Sons in an advertisement in The Times of 11th of May 1927, presumably on instruction from N W Gurney. From the description and accompanying photograph the house still existed in the form that it was in 1902. This again goes against the local legend that the house burnt down in 1921. There may have been some small fire at the house in 1921 for the local newspapers during the summer of that year are full of reports of fires at various places but there is no report of any fire at Stratton Chase. In 1927 Kelly's Directory says the house is vacant.
In 1923 there were already houses starting to be built on the land purchased by H Falkner but they were constructed one at a time, designed by Collcutt and Hamp, a well-known firm of Architects, and built by Falkner & Sons. The first of these houses was Linden Lea occupied by J F Watkins soon followed by Stratton Court occupied by Lt. Gen. Sir Alexander Hamilton-Gordon. The ownership was retained by H Falkner.
In 1931, and again in 1935, Stratton Chase is listed by Kelly's as vacant but in this latter year it was up for sale again, being listed in The Times on the 27th June 1935 as having been one of the "Hunting Boxes" sold by Harrods estate office but with only 10 acres of land attached.
A document in the County Record Office shows an alterations to the Tithe Apportionment dated about 1936. At this time rent charges in lieu of Tithes were still payable and changes in ownership or use of the land had to be notified. The owner of the house and immediate land was P Rogers. This 1936 document again shows an outline of the buildings and, if taken at face value, it shows that the main structure of the house still existed at that date although the conservatories and many external or allied buildings had gone.
The next available Kelly's Directory is for 1939 when Stratton Chase is no longer mentioned at all.
SUMMARY.
Stratton Chase had been built right at the end of the era of the grand country house, and also in a period of major agricultural depression. Neither James Gurney nor Henry Pocock appear to have had the resources to properly finance such a major undertaking and after 1905 Henry Pocock does not seem to have had the income to occupy the house. He had to lease it out and occupy himself a much smaller house - Sandfords. From what we can see it looks as if Stratton Chase did not come to a sudden end in a fire or in a major demolition in the early 1920s but just faded away during the 20s and 30s. The story that the mortgagors sold it off is true in 1895 when it was only just finished and James Gurney became bankrupt. It is only partially true in 1921 when the then owner, Henry Pocock, died with a mortgage outstanding and so the estate was sold by the Executors to repay the loan.
REFERENCES. Unless otherwise specified, all references given above refer to catalogue references at the Centre for Buckinghamshire Studies at Aylesbury. (County Record Office.)
This print is a section of the Chalfont History website.
Please come back soon.
John Dodd ©2012 www.chalfonthistory.co.uk